Coronation Street explores right to die
Spoiler alert: This story contains plot details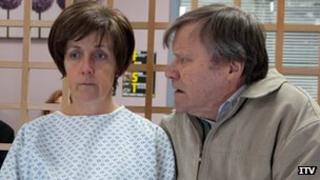 Coronation Street is to explore the issue of the 'right to die' when terminally ill Hayley Cropper decides she wants to take control of her death.
Hayley, the first transgender character in a British soap, has been diagnosed with inoperable pancreatic cancer.
The show has revealed that as her health deteriorates she will decide she wants to take her own life.
Both sides of the 'right to die' debate will be shown as her husband Roy is vehemently against her decision.
Coronation Street Producer Stuart Blackburn said: "This is a very sensitive issue and we will be exploring the effects of her decision on husband Roy who has a huge emotional and moral dilemma over her choice to die this way."
Blackburn said Hayley becomes very concerned about losing control as the disease progresses.
"The palliative care Hayley receives is superb but she is scared that the pain relief can cause confusion and a loss of clarity.
"She is concerned she could regress to being Harold, she's already had one such nightmare. She wants to die in peace with clarity of thought, she wants to die as Hayley - the identity she has spent her whole life fighting for," he added.
It was announced in January that Julie Hesmondhalgh, who has played Hayley for 15 years, is leaving the soap at the end of the year.
She said filming the cancer storyline scenes were "hard to do" and admitted they were "going to be pretty hard to watch".
"I feel the storyline really honours their relationship and their love story - it's fitting and it's proper and it's what people are living with every single day and I think it's important to tell those stories," she said.
'Handled with care'
The 'right to die' storyline has been welcomed by the campaign group Dignity in Dying. Chief Executive Sarah Wootton said they believed it will "highlight the effects that the current out-of-date law has on terminally ill people and their families".
"We do not know the details of the upcoming plot, but what we do know is that people are taking drastic action to have the death that they want, with one patient travelling abroad every fortnight and others asking friends or family to help them in this country," she added.
Coronation Street has revealed the character of Hayley does not ask her husband Roy to help her in the storyline. The show's writers and producers have consulted widely with specialists and interest groups before tackling the issue.
It comes at a time when an Assisted Dying Bill is to be debated in the House of Lords.
A spokesman for Care Not Killing warned that while soaps should not avoid controversial subject matters, it was "important that this issue is presented in a sensitive and careful way" and "handled with great care."
"Irresponsible portrayal of the subject is the recipe for elder abuse and a threat to vulnerable people, many of whom already feel under pressure at a time of austerity and who are worried about being a burden on others," he added.