£22m Cast theatre opens in Doncaster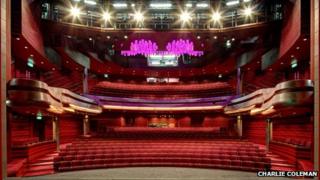 A new £22m theatre has opened its doors in Doncaster, South Yorkshire.
The Cast theatre's first production is The Glee Club, about 1960s Doncaster miners who started a singing group, which was in the West End in 2002.
Some of the miners who inspired the play met the current cast during preparations for the new production.
The 620-seat theatre has been built with £20m funding from Doncaster Metropolitan Borough Council and a further £2m from Arts Council England.
Cast replaces the town's old Civic Theatre, which shut in March.
The council has provided the funding despite having to make £118m cuts between 2012-17.
Cast is part of a wider £300m scheme to regenerate the town centre, according to Bob Johnson, the council cabinet member for regeneration, leisure and culture.
"It's part of a regeneration package for the urban centre of Doncaster, part of a long-term vision. It's bringing in jobs.
"Like all these long term projects, when you set out on it the world was a different place. But it was a commitment, we set the money aside for it and we thought it was important to continue."
Between 2008-10, Doncaster came seventh from bottom in a survey of cultural engagement in 354 areas across England, according to the Arts Council.
The venue will host music, dance, children's shows and comedy as well as theatre. Cast director Kully Thiarai said she wanted to create a "thriving, artistically exciting and entertaining venue".
"It's really important that people feel there's a cultural life in a place, however hard life is," she said.
"The arts can't change the world in terms of fixing the lack of jobs or the economic woes of the country, but it can give people hope and opportunity and entertainment and a space to think about other ideas than just the daily grind."
As well as the main auditorium, a second space within the venue can accommodate up to 400 spectators.