Tom Hanks and Daniel Radcliffe to attend London film festival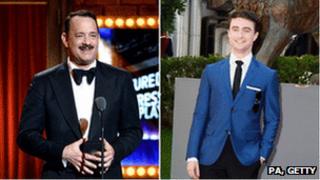 Tom Hanks, Carey Mulligan and Daniel Radcliffe are among the stars attending this year's BFI London Film Festival, organisers have announced.
The event, which begins on 9 October, will show 234 fiction and documentary features including 22 world premieres.
Judi Dench and Steve Coogan are due on the red carpet for the gala screening of Stephen Frears' film, Philomena.
The festival will also unveil Steve McQueen's 12 Years A Slave, starring Benedict Cumberbatch.
Cumberbatch stars alongside Brad Pitt, Michael Fassbender and Chiwetel Ejiofor in the historical drama based on Solomon Northup's autobiography of the same name, about a free black man who was kidnapped and sold into slavery.
Hanks will open the festival with his latest film, Captain Phillips, directed by British Bourne Identity filmmaker Paul Greengrass.
The biopic tells the story of Captain Richard Phillips, who was taken hostage by Somali Pirates during the Maersk Alabama hijacking in 2009.
Saving Mr Banks, the untold story of how the Disney classic Mary Poppins made it to the screen - which also stars Hanks alongside Emma Thompson, will close the festival.
Other big hitters to be screened include the sci-fi thriller Gravity, starring George Clooney and Sandra Bullock, The Coen Brothers' Inside Llewyn Davis and the critically acclaimed lesbian drama, Blue is the Warmest Colour.
Thirteen films will compete in the official competition including Jonathan Glazer's Under The Skin starring Scarlett Johansson as a man-eating alien; Parkland, Peter Landesman's film about events in Dallas, Texas on the day President John F Kennedy was assassinated; and Starred Up from British director David Mackenzie.
The first feature category includes John Krokidas's debut, Kill Your Darlings, which stars Radcliffe as Beat poet Allen Ginsberg; and Sixteen, about a former child soldier in the Congo looking for a fresh start in London, starring Rachael Stirling.
The festival will host 16 international premieres and 29 European premieres. There will also be screenings of 134 live action and animated shorts.
The only world premiere is John Noel's The Epic Of Everest, which charts the famous 1924 Everest expedition.