George Lloyd music revived for Last Night of the Proms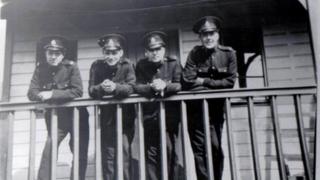 There's something new at the Last Night of the Proms - a military march composed 72 years ago. George Lloyd's HMS Trinidad March was written for the Royal Navy ship on which he served in World War II. But within months of being commissioned the Trinidad went down in freezing Arctic waters - a fate to which it's thought only one witness survives today.
John Farrow believes he never actually encountered George Lloyd aboard HMS Trinidad. He says by and large the Royal Marines, such as Lloyd, kept separate from the rest of the crew. But he clearly remembers hearing the tune the young composer had written for the ship.
"We were told over the intercom the Royal Marine bandsmen were going to play a new tune for the Trinidad. They performed it in one of the hangars. It was a terrific tune. And I think also they played it on the quayside in Iceland. The Trinidad was spanking new so I suppose the Captain wanted a brand new march to go with it."
At 92, John Farrow is thought to be the last survivor of HMS Trinidad. Working in Salford as a French polisher he and two friends volunteered almost as soon as war was declared in September 1939. "We went down to Devon for training. Two of us survived the war and one did not."
He recalls his pride at learning he was going to serve on the cruiser HMS Trinidad. "It was one of the fastest ships going - it did 32 knots.
"When we set off there were still men on board finishing the building work. We had no idea where we going: at one point we were issued whites (tropical kit) so we hoped we were heading somewhere warm. But in the middle of the night they piped that we were passing Blackpool so we guessed we weren't going to get much sun after all."
The Trinidad was to spend its short life on Britain's perilous Arctic Convoys.
When the USSR joined World War II on the side of the Allies, Britain began sending supplies to Russia by sea. It was a dangerous run over the top of Norway into waters vulnerable to attack by German ships, planes, mines and submarines.
Unusual career
On board the same ship was George Lloyd, eight years John Farrow's senior.
Lloyd, who died in 1998, was to have an unusual career in music. It was split in two, with a long period in the middle of near-obscurity after a breakdown brought on by the war.
As a young man he had had operas at Covent Garden and symphonies played on the BBC. Some critics considered him the equal of his contemporary Benjamin Britten. Then in 1939 Lloyd, like John Farrow, signed up.
His nephew Bill, today active in promoting the resurgence of interest in the composer's work, spoke to his uncle about life at sea.
"George wanted to join the navy but couldn't get in," says Bill Lloyd. "But his fellow composer Rutland Boughton suggested he apply to become a Royal Marine bandsman.
"The Captain of the Trinidad was a music-lover and delighted to find a young man on board with a reputation for writing music. He commissioned the march which all these years later is being played at the Proms."
John Farrow well remembers the day in 1942 when the Trinidad took a disastrous torpedo strike. He survived physically unscathed whereas for George Lloyd it was the start of long years of depression.
The Trinidad was hit by one of its own torpedoes. "I can still feel it now: the ship shook like paper," John Farrow says. "It's possible the torpedo hit ice and went off course: even now no one's really sure what went wrong.
"I was lucky to be high up in the ship and outside. The terrible thing for the bandsmen was they were down in the radio transmitting room. It was next to the oil tanks and that's what did for most of them."
'Survivor's guilt'
Bill Lloyd recounts his uncle's narrow escape. "George managed to push his way up a ladder to get out as the torrent of oil poured down over him at high pressure: to breathe he put his head under the coat of the man ahead of him. He always believed he was the last to escape the room. Everyone else died.
"There was huge survivor's guilt afterwards: could he have done more to help the others?" Gradually it became clear George Lloyd was ill with what now would be called Post-Traumatic Stress Disorder. He was sent to a naval hospital in Scotland where the doctors despaired of him ever recovering.
John Farrow, uninjured, stayed with the ship. "But there was nothing to do in Murmansk. They had less than we did."
Eventually the Trinidad set sail for home but was again attacked by the Germans, this time from the air. "I will never forget jumping the 10 feet from our burning ship to the destroyer which rescued us. You needed to concentrate because if you fell in the water you'd be dead within two minutes of the cold."
The Trinidad was scuttled - a dismal end to its career on the Arctic Convoys. John Farrow made it safely to the end of the war, when he and his family moved to South Wales.
He's hugely pleased that after years when Britain's Arctic Convoys seemed all but forgotten interest in their history is clearly growing.
For George Lloyd there were years of struggle to come as he tried to pick up the pieces of his music career.
"At one point he couldn't even hold a pen," says Bill Lloyd. "But even worse, for years he could barely hold an idea in his head. Suddenly the pressure of being in the music world was beyond him. And in the meantime the music George wrote was increasingly out of fashion."
Hoping to find peace of mind George Lloyd moved into market gardening. It was only in the '80s that he became a presence once more on the music scene.
This year is the composer's centenary year and the HMS Trinidad March threatens to become his greatest hit. But this year's Proms also featured his Requiem - written in memory of Diana, the Princesss of Wales - the last work he ever completed.
"When late on someone told him he'd finally arrived, George said no he'd missed the bus all his career," Bill Lloyd recalls. "He took a mildly cynical view of most things."
"But he'd be pleased that a big work like the Requiem has now been performed at the Proms. And I suspect audiences will love the HMS Trinidad March - it's a vibrant piece with a real swagger to it."
Vincent Dowd's was remembering George Lloyd and HMS Trinidad for the World Service's Witness programme