Agatha Christie sleuth Poirot to return in new novel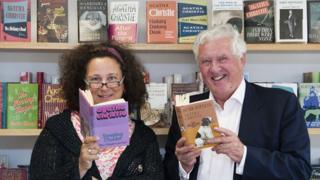 Hercule Poirot, Agatha Christie's famous moustachioed Belgian sleuth, is to return in a new novel backed by the author's family.
Crime novelist and poet Sophie Hannah will write the as-yet-untitled book, which will be published in September 2014.
It will be the first official novel to continue Agatha Christie's work.
Hannah said Christie was the writer who made her "fall in love with mystery fiction" at the age of 13.
"I read and collected all her novels within a year, and have been a passionately - some might even say obsessively - devoted fan ever since.
"It was Hercule Poirot and Miss Marple who, between them, made me want to devote my working life to crime fiction and it was Christie's brilliant plotting and deep understanding of the human psyche that shaped my identity as a crime writer.
"Therefore, it is almost impossible to put into words how honoured I am to have been entrusted with this amazing project - in fact, I still can't quite believe that this is really happening. I hope to create a puzzle that will confound and frustrate the incomparable Hercule Poirot for at least a good few chapters."
Hannah's novel comes more than 90 years after Christie introduced Poirot in her first novel The Mysterious Affair at Styles, published in 1920. Christie died in 1976.
According to her grandson Mathew Prichard, it was "pure serendipity" that led to Hannah being commissioned.
"Her agent happened to approach HarperCollins in exactly the same week that my colleagues and I had started discussing a new Christie book," he said.
Speaking to the BBC on Tuesday, Prichard said of Hannah: "It was her enthusiasm and respect for my grandmother as an author that convinced us that this was the person to take on the daunting task."
He said that the idea of a new Poirot book was driven, in part, by the desire to draw attention to his grandmother's vast body of work, especially to a younger audience.
"However popular Agatha Christie still is, space in bookshops has become limited and we've all felt over the last few years that to have a new book was a possibility that we could no longer afford to overlook."
Prichard felt that there was still "an enormous appetite" for Poirot based on book sales and the success of the TV series starring David Suchet.
"I know that David Suchet's mailbag groans with fan letters. This book should intrigue Agatha Christie's many fans and show that this author and character is still very much alive in the 21st Century."
Poirot is one of many famous fictional characters to be resurrected after the death of their creator.
"It's a trend, but not a recent one," said Philip Jones, editor of The Bookseller.
James Bond, Sherlock Holmes, Peter Pan, Dracula, and characters from The Hitchhiker's Guide to the Galaxy have all been given new life by contemporary writers in the past few years.
"What it does is revitalise a brand that may be slightly diminished by its longevity or a TV series coming to an end," Jones said.
"It's a smart way for the estate to give that brand a boost and a bit of reinvention. If you get the right publisher and the right author it can work really well."
Before Poirot appears next year, bookshops will be greeting some other well-known literary creations. A new Jeeves and Wooster novel by Sebastian Faulks is out in November.
And Bond is back at the end of this month in William Boyd's Solo.
Boyd is the third author to be invited by the Ian Fleming estate to write an official Bond novel.
He follows in the footsteps of the American thriller writer Jeffery Deaver, who wrote Carte Blanche in 2011; and Faulks, whose Devil May Care was released in 2008.