Wikileaks founder Julian Assange on Raindance jury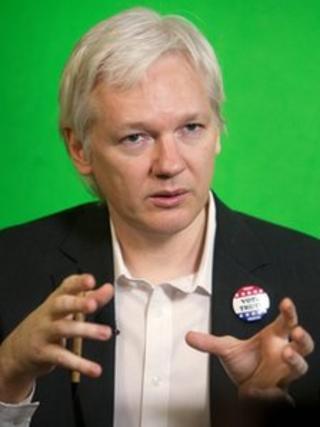 Wikileaks founder Julian Assange is on the jury of this year's Raindance Film Festival, which celebrates independent film from around the world.
Assange, who has been in Ecuador's embassy in London for more than a year, will have DVDs of the films in competition delivered to him.
Other judges include British actor Jason Flemyng, Portishead singer Beth Gibbons and author Robert Rankin.
The festival takes place in London from 25 September to 6 October.
"We choose our jurors because they are interesting people," Raindance founder Elliot Grove told the BBC at Tuesday's festival launch in the Vue Cinema in Leicester Square.
"I think five or 10 years from now, if you are studying anything to do with social media, the Wikileaks story will be a test case of how to manage that," he said.
Assange walked into the Ecuadorean embassy in London in June 2012, when his appeal against extradition to Sweden for questioning on accusations of sex crimes was turned down.
"Julian - like many of the film makers and judges - will be unable to attend," Grove added. "Fortunately he has a residence not far from where we are sitting to which we will drop off the DVDs."
Assange himself will be portrayed on film by Benedict Cumberbatch in the forthcoming thriller The Fifth Estate, which has its world premiere at the Toronto International Film Festival on Thursday.
Syrian shorts
Now in its 21st year, this year's Raindance Film Festival will host more than 300 feature length films, shorts and documentaries from more than 50 countries.
Screenings include Wayland's Song, Richard Jobson's thriller about an ex-soldier dealing with physical and mental scars on returning from Afghanistan; and Earthbound - starring Rafe Spall as a man who believes he is an alien from another planet hiding from intergalactic bounty hunters.
A new addition to the line-up this year is Web Fest - two days devoted to films made for portable screens.
The festival will close with The Machine, a sci-fi thriller starring Toby Stephens and written and directed by Caradog W James.
Five documentary shorts, shot during the conflict in Syria will also be screened, including one from a director who was later kidnapped.
"One of the filmmakers emailed this morning and told me he managed to escape at sunrise this morning," Grove said. "He had been kidnapped in Aleppo. I can't identify him, he fears for his life and is in hiding."
He added: "We chose the Syrian shorts because they were extremely passionate personal statements and very relevant."
Full details of the films in competition and the judges are on the Raindance Film Festival website.