Victoria Wood's Housewife, 49 gets stage premiere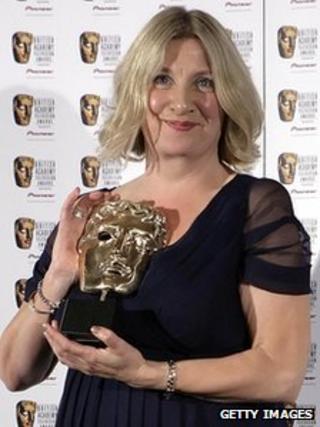 Victoria Wood has chosen a part-time theatre in Cumbria as the venue for the premiere of a stage version of her award-winning TV drama Housewife, 49.
Wood is a patron of the Old Laundry theatre in Bowness-on-Windermere, which operates for three months a year.
For the rest of the year, it is used as a restaurant for Japanese tourists.
Wood wrote and starred in the original ITV version, based on a Barrow-in-Furness housewife's diaries from World War II, which won two Baftas in 2007.
"I am hoping the story of Nella Last and her life in wartime Barrow will resonate with the Lake District audience as much as it did with me when I first read Nella's diary," Wood said.
"This will be its first time on stage and it's very appropriate that it's being done and seen here first in Nella's beloved Lakes."
The 280-seat Old Laundry is attached to the World of Beatrix Potter tourist attraction, which subsidises plays using revenues from visitors on the trail of the Cumbria-based Peter Rabbit creator.
Set designer Roger Glossop founded the Beatrix Potter attraction in 1991 and decided to convert an unused part of the building into a theatre.
Glossop has worked with Sir Alan Ayckbourn and persuaded the playwright to become the Old Laundry's patron. Sir Alan now makes the venue the first stop when his plays go on tour.
Victoria Wood worked with Glossop at the Sheffield Crucible as her career was taking off in the late 1970s.
She is now a trustee of the Old Laundry, as are other friends from Glossop's theatre career including Alan Rickman and Griff Rhys Jones.
Housewife, 49 has been adapted for the stage by writer Paul Allen and is being directed by Peter James, who co-founded the Liverpool Everyman theatre in the 1960s before running the Sheffield Crucible, the Lyric Hammersmith and drama school Lamda.
The role of Nella Last, played by Wood on TV, is being taken by Tenko and Peak Practice actress Veronica Roberts.
Between the years of 1939 and 1965, the real Nella Last kept a vivid diary for Mass Observation, a social research organisation that aimed to record "the voice of the people". She died in 1968.
Housewife, 49 runs at the Old Laundry from 12 September to 5 October.