Liverpool schoolchildren star at BBC Proms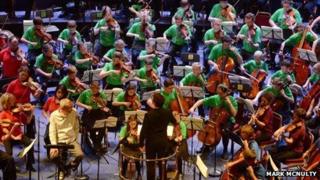 Liverpool schoolchildren who are taking part in an innovative music education project have become the youngest performers at this year's BBC Proms.
Pupils as young as nine from Faith Primary School played alongside members of the Liverpool Philharmonic at the Royal Albert Hall in London on Sunday.
The school is one of six in England taking part in the In Harmony scheme.
All pupils and staff learn instruments, in a programme inspired by Venezuela's pioneering Sistema project.
For the past four years, the children have been immersed in music during the school week with the aim that it will improve academic achievement and behaviour, as well as their musical talents.
The pupils, who perform with West Everton Children's Orchestra, appeared at a family Prom narrated by author Michael Rosen.
Here, a young performer, the school's head teacher and a professional musician describe the day and the impact the In Harmony project has had.
Lucy, aged nine
"I enjoyed myself. When I walked out I felt happy. Then I got nervous a little bit, but my mate gave me a little smile so I was all right.
"When the man shouted 'The West Everton Children's Orchestra', everyone started cheering. I felt amazed and happy. We had to rehearse for ages and ages. We had to rehearse for a full week.
"I love my violin. I've been playing for four years. I started in Year One. It was quite hard and then when I was in Year Two or Three I started picking it up easier. We play in school on a Monday, Wednesday and Friday. The teachers play. We all love it.
"My little brother is going in to Year One and he'll be starting to play an instrument soon. He said he's going to play the double bass or the cello."
Sister Moira Meeghan, Faith Primary School head teacher
"It was wonderful because the children were able to work with the Philharmonic, practice with the Philharmonic and recognise what it means to really practice and play to so many people.
"Every member of the school plays an instrument - staff and children. The admin officer plays the cello, the learning mentor plays the double bass. I play the double bass.
"Children have four-and-a-half hours of music in curriculum time a week, as well as the opportunity to do a further three hours of music in clubs. And on a Friday afternoon we all come together and play as an orchestra.
"The children are more able to concentrate, they're more focused on their work, they're more open to working at different levels. At the orchestra, they all have their different parts and they're all different grades of ability. At the end of it, it all fits together to make a beautiful sound, so they're not worried about it.
"Children learn from the adults and adults learn from the children. There are times where I can't make practices because of meetings and children, particularly one child, has said to me, 'If you meet me at playtime, I'll go through it with you.' This is a 10-year-old child saying she'll teach me!
"That has had an amazing effect on the school because they see that everybody has to learn, everybody has to practice together.
"In the first year, 75% of the children exceeded their targets - there was a vast improvement in academic achievement. After that it's sort of plateaued. But children are reaching national expectation far more than they were in the past. It's down to a lot of things, but the music has contributed to it."
Susanna Jordan, Liverpool Philharmonic first violin
"I've done four or five Proms, but none quite like this.
"There were quite a lot of lump-in-the-throat moments. They chartered a train, and all the parents were waiting for the children last night and started clapping as they came off the train. That was so moving.
"It's not the most affluent area and I think probably it was amazing experience for those children who wouldn't normally have the opportunity to play instruments at all, let alone in the Albert Hall.
"The children were very well prepared. They get so much music I think it just becomes second nature. They were so together, they were so well behaved. They managed to fit them into the middle of the orchestra - they weren't in any way sidelined, they were the main event.
"My godson after the concert said he wants to play the French horn. Probably a lot of children in the audience will have gone away thinking they want to play an instrument. Seeing children do it of their own age just makes them think 'well why shouldn't I?' Which is what we need.
"These children don't necessarily have any more musical aptitude than any others, but music goes through the entire day. The fact that it is available in schools means that so many more children have access to it than if you were relying on being fairly middle class and being able to afford your own instrument.
"They're at the beginning but because of the teaching they're receiving, it gives them the best possible chance. And maybe some of them will end up playing with the Liverpool Phil in the future."