John Kasmin reflects on the artists who shaped the 60s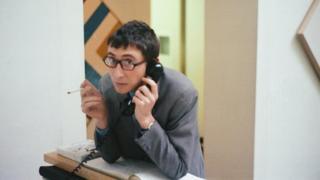 Fifty years ago, pioneering art dealer John Kasmin opened London's first White Cube-style gallery showing emerging artists from the capital alongside major figures from the US and Europe.
The period, which in cultural terms became known as the Swinging Sixties, was one of immense creativity with artists such as David Hockney, Bridget Riley and Anthony Caro creating groundbreaking work that captured the new spirit.
But beyond names such as Hockney, Riley, Caro, Francis Bacon and in recent times, Lucian Freud, very little is known about many of the other artists from the same era.
A new exhibition at Sotheby's, curated by Kasmin, hopes to change that, by bringing attention to 40 of the artists who emerged out of London art schools in the late 50s and early 60s.
"It was an effervescent time," says Kasmin, who gave Hockney his first break.
"People felt they were waking up to a new world. We'd got beyond the ration books and greyness of the earlier 50s.
"We'd started to have young people with more money. It was a time when, being young, you felt cock of the rock, which hadn't been the case in England for a long time."
British art contained elements of the major avant-garde movements of the post-war era including pop, abstract and conceptual.
Several of the experimental artists who emerged at the time became household names, going on to command millions of pounds for their work.
Kasmin's exhibition will feature works by Hockney and Riley, displayed alongside pieces by Scottish artist William Turnbull and the early conceptual artist Keith Arnett, to enable visitors to rediscover a generation of young British artists.
"We wanted to put those artists who are now known internationally back into the original context, not to take away from their achievements, but to level the playing field," says Simon Hucker, Sotheby's specialist in modern and post-war British art.
"If you put these artists back in context with major figures who people have heard of, hopefully people will feel comfortable about exploring the era and these artists."
"This exhibition is about giving a picture of what made the period so unique," says Kasmin.
"At that moment the eyes of the world were on London because there were a lot of new things happening.
"Youthfulness was a feature of this period of change, but youthfulness affected some older people too!
"Some of the older artists were also changing their style and entering into the best period of their work."
So why did so few artists go on to enjoy the same level of recognition and commercial success as their counterparts?
There are many reasons but one is that some "understood the game and played it a bit better", says Hucker.
"They are famous because they are fantastic artists, but they also managed to translate their profile abroad."
Kasmin suggests that, in some instances, success bred success.
"Some of them drew more attention because they continued being noticeable stars, others because the value of their work brought them increased media attention and the press would continue to mention if their work sold for a high price at auction, and some faded out and didn't do much better later on."
Kasmin closed his gallery 20 years ago, but he has fond memories of those early days at the centre of London's cultural scene, an interwoven tapestry of art, music, fashion, film and literature.
Business and pleasure were mixed and Kasmin recalls nights out with other gallery owners and artists to London's first 10-pin bowling alley at London Airport.
"We would play poker games too - sometimes at my house, sometimes at Hockney's - we did a lot of things together and it wasn't so commercial.
"Selling of art and making great sums of money didn't happen anything like the way it does now.
"We didn't have that bitter competitiveness. There was a comradeship and conviviality I don't think there's so much of anymore, at least not that I know of.
"We would get together and criticise critics and say we didn't have critics that were as good as the art that they were supposed to be looking at and taking seriously.
"We got frightfully cross about one critic who under another name was a critic of ballet. We had the feeling he was keener on his ballet and at that stage ballet was at a dull stage, not like it is now.
"We were all very cocky, all very self confident and exuberant and all out for quite a big time and we wanted people to take art seriously."
The New Situation: Art in London in the Sixties runs 4 - 11 September at Sotheby's, Bond Street, London.