Hugh Jackman to receive back-to-back festival honours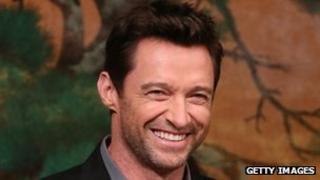 Australian actor Hugh Jackman is to be honoured at two European film festivals next month on consecutive days.
The 44-year-old will first receive the Donostia award for lifetime achievement at the San Sebastian Film Festival in northern Spain on 27 September.
He will then travel to Switzerland to accept the Golden Icon award at the Zurich Film Festival.
Both events are screening his new drama Prisoners, which has its world premiere next week at the Toronto Film Festival.
Jackman, star of Les Miserables and the X-Men films, plays a father who takes the law into his own hands when his daughter goes missing.
Karl Spoerri, director of the Zurich festival, said the Oscar-nominated and Tony-winning star was "in a class by himself as a multi-talented entertainer with a global following".
"There is nothing he can't do and he proves this time and time again with every project he's involved in."
Jackman has been in Japan this week promoting The Wolverine, his sixth film as the titular comic book character.
He will play Wolverine again in next year's X-Men: Days of Future Past and is set to play the illusionist Harry Houdini in an upcoming Broadway musical.
Meanwhile, the Toronto Film Festival has confirmed that 1997's Boogie Nights will be the subject of its annual "Big Read" event.
Organised by director Jason Reitman, the 6 September performance will see the script from Paul Thomas Anderson's film read out live by contemporary actors.
Last year's event saw the Oscar-winning American Beauty recreated by a cast that included Breaking Bad's Bryan Cranston and Christina Hendricks from Mad Men.
"When Jason Reitman brought the Live Read of American Beauty to Toronto in 2012, there was excitement in the air," said Toronto's artistic director Cameron Bailey.
"Revisiting Anderson's script in this creative setting with a stellar cast of actors is a kind of movie magic."