Jackson's 'drug requests 10 years before death'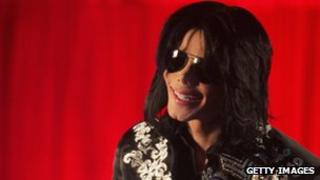 Michael Jackson asked a doctor for propofol 10 years before he died of an overdose of the drug, a court in Los Angeles has heard.
Dr Christine Quinn told how the singer asked her to give him propofol to help him sleep.
Jackson died of an overdose of the drug given to him by Dr Conrad Murray.
Katherine Jackson is suing promoters AEG Live for $40bn (£26bn) over her son's 2009 death. The company has denied any wrongdoing.
Conrad Murray was convicted of involuntary manslaughter in 2011 over Jackson's death. AEG, which was promoting his planned comeback concerts, denies it hired Murray.
Dr Quinn was giving evidence for the defence.
She said the request for propofol came after she met Jackson while he was undergoing dental procedures.
Dr Quinn said she told him it was not appropriate to use the drug as a sleep aid.
She told him the sleep you get with anaesthesia "is not real sleep, not restful sleep".
But Jackson told her it had given him the best sleep he had ever had.
Nurse practitioner Cherilyn Lee also told the court that the singer had told her he needed propofol to sleep in April 2009.
She said she had warned him that it was unsafe for home use and he might not wake up.
But Jackson told her that doctors had told him he would be fine as long as he was monitored.
She said "his demeanour was `I have to have this. I have to have this to sleep. You don't understand, I have not had a good night's sleep'."
AEG Live has also called a number of Jackson's former doctors to testify.
Dr Petros Levounis, who had been hired by AEG, told the court on Tuesday that Jackson showed signs that he was shopping around to try to find a doctor who would give him opioid drugs.
Katherine Jackson's lawyers have said the singer was not an addict.