X Factor: Reflections on 10 years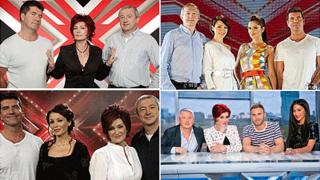 As Saturday night TV staple the X Factor returns for its tenth series, it has been revamped to try and boost falling ratings.
Over the years, the show has dominated entertainment headlines - and been blamed for ruining the music industry.
But has it, to use the series' most-overwrought cliche, reached the end of its "journey", or is there enough talent and interest to keep it going for years to come?
It's time to face the music: Six former contenders and music industry insiders share their views.
ONE DIRECTION - The global superstars
One Direction may be the biggest boyband in the world right now but they came only third in X Factor's 2010 series.
Harry, Zayn, Liam, Niall and Louis all entered as individual singers but were thrust together by the judges.
Teenagers at the time, the band grew up watching X Factor and, not surprisingly, believe the show can run and run.
"I think it's always going to have a fan base," Liam Payne told the BBC. "It'll always be present - I mean for anything to last a decade is crazy".
Harry Styles agreed: "It's mad, isn't it? For a talent show to last 10 years is crazy. I think it's got a couple of years left in it."
Louis Tomlinson pointed out that, while people like to sneer at the show, they're still tuning in. "I think it's easy every year for people to be like 'urgh the X Factor - I wonder if they're going to do it this year?' but they're still talking about it and watching it and there's still talent every year".
CHICO SLIMANI - The novelty act
Being on the show meant absolutely everything to me. It changed my life and my family's and, without it, I wouldn't be where I am today.
I was on the second year of the X Factor, which became the blueprint for the rest of the series. You had real talent along with a few characters and novelty singers. They've tried to recreate that format every year, sometimes they're more successful than others.
There is a good career and living to be made even if you are a novelty act on the show. It is a platform - I call it the conveyor belt syndrome - you're all moving around the conveyor belt and you get your one chance to make your mark.
People who criticise the show and say it's ruining the music industry are talking absolute rubbish. One or two out of the 12 each year will be novelty singers and it is an entertainment show - but out of the 120 contests over the years there have been so many world class performers. They say it brings overnight success but often singers will have often put in an apprenticeship of many years before they get on the show.
Who can deny last year's winner, James Arthur, should be a worldwide superstar? But that's only if he gets the machine and the right songs behind him.
From the year I was on people I know are still gigging and starring in West End plays. I had a number one with Chico Time, appeared in Dancing on Ice and have made my own fitness DVD. I'm the one having the last laugh.
FRASER MCALPINE - Music critic
The influence of The X Factor has been most keenly felt among two groups: People who hate TV talent shows and wish to make this known, and people who would otherwise not have considered a career in pop music and have their fingers firmly crossed. It may be roundheads versus cavaliers for them, but when a new series starts, everyone else will either enjoy the spectacle, or start doing something else in a different room.
Even in the charts, statistics don't support the idea that the TV reptile house is nurturing a suffocating legion of genetically modified superstars. Of the biggest names from the last 10 years in pop music - Rihanna, Adele, Beyonce, Lady Gaga - none have come from TV, and the performers that have taken their X appeal furthest - Girls Aloud, One Direction, Leona Lewis - have done so because they had a magic carpet of great songs to carry them aloft, once the cameras had started to focus on someone else.
JEFF SMITH - Head of Music, BBC Radio 2
It isn't the must-see that it used to be but it does have a massive effect on radio stations, although more on the mainstream pop stations than Radio 2.
Having said that, the repercussions have filtered into the world of "timeless and melodic music" that Radio 2 plays. We've solely supported Matt Cardle over the last couple of years. He was on a major label and has moved on, but his most recent record went into the top 20. Even One Direction get an occasional play on Radio 2, and I think their career shows how X Factor has supercharged things in terms of the UK's pure pop mainstream music.
But on the whole, we've seen strong British artists arrive and develop in spite of the X Factor. There's still good music coming out of the UK that hasn't got anything to do with it.
I was a teenager in the 1970s when two songwriters, Nicky Chinn and Mike Chapman, were the X Factor of their times - and Rak Records was the equivalent of Simon Cowell's Syco label. What Chinn and Chapman did with glam bands like Mud and Sweet was looked down on, but they sold an awful lot of records. Alongside that, you still had David Bowie and The Who and Led Zeppelin.
These massive musical phenomena have an effect. Some people feel it taints things, but I don't think it does - it just adds to the whole experience of music.
STEVE BROOKSTEIN - Winner of the first series
It's 10 years ago and so much different now to when I was on it. I was the first and only older winner.
I had a great time on the X Factor, it was a great experience and it was a lot of fun. But it's well known I fell out with Simon Cowell and the consequences were damaging. It changed my life in a way that I didn't expect. I didn't expect him to have so much power.
I was doing better before the X Factor than after it. I had more work, better quality work. I wasn't "well-known" but I was on the wedding, corporate and private party circuit and at each gig I would get three more because of how good I was.
But I never regret doing anything, because I look at my life now and I'm happily married with two kids and I wouldn't change that for the world.
I'm doing a new album on an independent label. People liked my soul voice so they wanted me to do a soul album. I've got somebody funding it and they're respected in the music industry. He's a good guy and he wants me to do a good album.
IAN HYLAND - TV critic Daily Mirror
From the start, it always had the look of something that was going to take off and be massive. Mainly because the judges were so good and also because they got some good talent in there nice and early.
I think it definitely lost its way when they started meddling with the format - when they started to do the arena auditions. For me, that ruined the progress from "singer who no-one has ever even heard" to "someone who could sell millions of records".
I liked the way the [auditions] started in a room and I'm glad they're going back to that this year. I think Simon Cowell got too big for his boots, really, and he liked the idea of filling arenas with of people to watch him judging when really it kind of ruined the purity of the show - if there is such a thing.
Simon Cowell never made any bones about it - he was just bringing to TV something that happened in the music industry anyway. Bands and artists have been manufactured since the day of the Beatles. So I don't think it's ruined the music industry. There's still plenty of decent music out there, it's just that there's just a lot more bland music, as well, thanks to Simon.
I think they'll get another few more series out of it yet. The problem is now they're going to keep changing the judges every year because they feel they've got to keep it exciting. It's such a massive part of the ITV schedule that you've got to consider what they've got to replace it - and from what they've put out over the summer, they haven't got anything. In five years' time it'll probably disappear forever.