Hollyoaks train death scene breaks Ofcom rules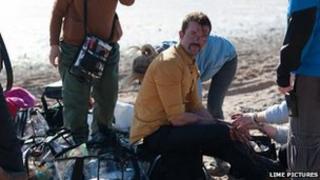 Channel 4 soap Hollyoaks has been censured over a fight scene where one of the main characters was killed by a speeding train.
Broadcasting watchdog Ofcom ruled the "violent and shocking" scene shown on 19 March 2013 was unsuitable to be shown before the watershed.
In its defence, Channel 4 said it had taken a number of measures to ensure the sequence complied with TV rules.
However Ofcom ruled the measures were not sufficient.
The scene between former undercover policeman Simon Walker and former drug dealer Brendan Brady was the culmination of a year-long revenge storyline - ending with the death of Walker who was pushed into the path of the train.
Channel 4 said "there was an expectation from viewers that there would be a dramatic end to such a complex tense relationship".
The entire sequence from the start of the fight to the train collision was a minute and a half long and was at the end of the programme just before 19:00.
Channel 4 said "great caution" had been taken not to show too high a level of violence than was "appropriate for the time".
That included editing the number of punches and monitoring the sound levels, while the script had been "crafted to ensure viewers were aware of what may lie ahead".
Signposting
The episode had a pre-show announcement which "served to clearly notify viewers that a dramatic, tense episode was on the way".
Channel 4 said as Hollyoaks was a drama aimed at a teen audience, the storyline and content "would not have exceeded their expectations and the signposting would have been sufficient".
It added as only one person had complained to Ofcom about the issue, it demonstrated the sequence was "appropriately scheduled" and to find the material in breach of the broadcasting code would be "an unreasonable and disproportionate restriction on Channel 4's right to freedom of expression".
In its ruling, Ofcom highlighted official Barb figures which showed 10% of the total audience of the episode were aged between four and nine years old, remaining consistent throughout the programme.
Ofcom concluded the scene had the "potential to distress younger viewers as well as raise concerns about the level of violence amongst parents watching with their children regardless of the editorial context presented or the signposting provided".
The broadcasting watchdog has commissioned research into viewers' attitudes to violence on television - in particular before and immediately after the watershed. The results will be published in 2014.