David Blunkett: Broadcasters 'failing' blind and deaf people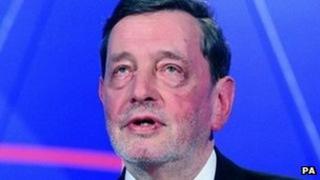 David Blunkett has hit out at broadcasters for "frustrating" subtitles that leave deaf people "scratching their heads".
The MP, who was born blind, also accused TV executives of failing people with impaired vision by not dubbing foreign dramas into English.
Writing in the Radio Times, Blunkett said TV executives were guilty of "worshipping the cult of youth".
"Broadcasters talk a good deal about equality, but preaching is not enough."
The former Labour home secretary said TV chiefs needed to have a "little consideration and forethought" to achieve a "better television experience for everyone".
"In an ageing population, people with hearing and sight impairments are becoming part of the mainstream," he said.
"It's no longer about a minority: We're a major sector of the viewing public, and we have the same rights as everyone else who pays the licence fee."
Blunkett, the first blind cabinet minister, also complained that blind people were left frustrated when foreign dramas and documentaries were not dubbed.
"I would have loved to enjoy The Killing and Borgen, but both shows were screened on BBC Four with English subtitles and no over-dubbing.
"I appreciate that many people don't like dubbed dialogue, but if you're blind it's invaluable - you can piece together the storylines simply by listening to what is said," he said.
Labour's former home secretary accused the TV industry of having an "unstoppable fetish" with pleasing younger viewers.
"It is the trendy, the metropolitan and, yes, the under-40s who determine what we view and what we listen to.
"But much of the spending power reflects an older age group. The ageing population wields a very powerful incentive - our financial muscle," he said.
Subtitles are used by more than a million people with hearing impairments to watch television.
Errors such as a weather forecast which warned of "mist and fox patches" could be fixed, said Blunkett, by investment in technology to improve subtitles, audio descriptions and voiceover translations.
'Muttering'
"We need the commitment and will to achieve a better television experience for everyone," he added.
The Royal National Institute of Blind People agreed that "spoken subtitles" in addition to audio description would give "greater access" to blind or partially sighted people.
The charity commended Channel 4 for "taking the lead" when it aired Spanish thriller Julia's Eyes with translations on the audio description feed of Film 4 earlier this month.
Channel 4 said it had received feedback that audiences generally prefer the "authenticity of original voices rather than dubbing".
A spokesperson added that the broadcaster was working with the RNIB to further develop audio description services to make its content accessible "to as wide a group of individuals as possible".
Further efforts to improve subtitling and audio description are being made by broadcasting watchdog Ofcom, which is working with deaf and hearing impaired viewers, as well as broadcasters, to address audience concerns.
Introducing a time delay to live programmes is one proposal being considered, with a plan of action due in the next couple of months.
BBC director general Tony Hall has also pledged to help older viewers who struggle to hear programmes over background music.
He told the Radio Times in July that it was important to balance people's needs as they get older with the "creative need of a director to put in music or sounds that help to make the drama or the programme more real and vital".
"I don't want to sound like a grumpy old man, but I also think muttering is something we could have a look at," he added.
In response to Blunkett's comments, the BBC said it made every effort to ensure is programmes were accessible to all.
"We are proud of our record of being the first UK broadcaster to subtitle 100% of programmes on our main channels, and we routinely exceed our targets for programmes which have audio description.
"However, as always, we will continue to work to improve the quality of our services."