Martin Luther King speech marked by BBC Radio 4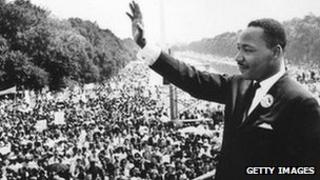 The BBC is to mark the 50th anniversary of Martin Luther King's I Have a Dream speech with a recital by notable figures, including the Dalai Lama.
The Radio 4 broadcast will mix recordings of King's original speech and excerpts spoken by guests.
Northern Ireland politician and Nobel laureate John Hume and Doreen Lawrence, the mother of the murdered teenager Stephen Lawrence, will also take part.
King's voice will open and close the tribute programme on Wednesday.
The civil rights leader, who was assassinated in 1968, led about 250,000 people to the Lincoln Memorial on the National Mall in Washington DC in 1963 and delivered his famous speech from its steps.
"I have a dream that my four little children will one day live in a nation where they will not be judged by the colour of their skin but by the content of their character," he said. The speech has become one of the most celebrated pieces of American oratory.
Gwyneth Williams, controller of Radio 4 said: "Martin Luther King's words constitute one of the most passionate political statements of the 20th Century, a source of inspiration in the quest for freedom in so many different countries around the world.
"I am delighted that Radio 4 is able to bring the whole speech to a global audience for the first time since 1963. I'm also thrilled that we have managed to gather such a distinguished host of contributors to mark the 50th anniversary."
The special recording of the speech will also feature contributions from Congressman John Lewis, who addressed the same crowd as King on 28 August, 1963 and singer-songwriter Joan Baez, who marched with King on the front line of the civil rights movement.
The BBC broadcast will go out on Radio 4 at 0900 on Wednesday and at 1430 on the World Service.
It will be accompanied by a specially commissioned slideshow on the Radio 4 website as well as personal reflections offered by some of the contributors.