The Butler holds firm at top of US box office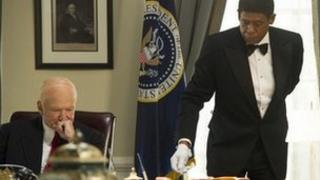 The Butler, a star-studded historical drama set in the White House, has topped the North American box office for a second week, taking $17m (£11m).
Officially titled Lee Daniels' The Butler, because of a legal tussle, it tells the story of a long-serving servant in the home of the president.
Jennifer Aniston's We're The Millers remained second with $13.5 (£8.6m), taking its total to $90m (£58.4m).
The World's End from British director Edgar Wright opened in fourth place.
The film, the final in the trilogy from Wright, Simon Pegg and Nick Frost, took $8.9m (£5.7m), following an extensive promotional tour from the director and cast.
Its predecessor, Hot Fuzz, took $5.8m (£3.7m) when it open in 2007.
The producers of Mortal Instruments: City of Bones - which debuted in third spot with $9.3m (£5.9m) - are hoping to have hit upon the next big teen franchise in the mould of Twilight or The Hunger Games.
Based on young adult fantasy book series, Sony Screen Gems has already committed to a sequel.
The top five is completed by Disney's Planes, a spin-off of Cars, which took $8.6m (£5.5m)
The global box office chart, which excludes the US and Canada, was dominated by Jurassic Park, which has been re-released in 3D. Its strong showing, with $30m (£19.2m), bodes well for the franchise restarting next year with Jurassic Park 4.
Second in the global chart was Matt Damon's Elysium, followed by Monster's University and Percy Jackson: Sea of Monsters.