Linda Ronstadt has Parkinson's disease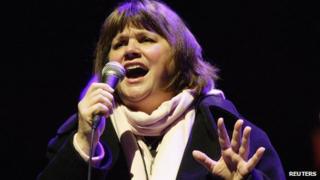 Singer Linda Ronstadt says she has been diagnosed with Parkinson's disease.
Ronstadt, 67, was a regular in the US charts in the 1970s and '80s, winning 10 Grammy Awards.
She was diagnosed eight months ago, she told AARP magazine, and now "can't sing a note". "No one can sing with Parkinson's disease," she said. "No matter how hard you try."
Parkinson's is a progressive brain condition that can cause shaking, slow movement and stiff muscles.
'Completely shocked'
She initially put her inability to sing and the shaking in her hands down to a tick bite and shoulder surgery, she said.
"I couldn't sing and I couldn't figure out why," she said. "I knew it was mechanical. I knew it had to do with the muscles, but I thought it might have also had something to do with the tick disease that I had.
"It didn't occur to me to go to a neurologist. I think I've had it for seven or eight years already, because of the symptoms that I've had. Then I had a shoulder operation, so I thought that's why my hands were trembling.
"Parkinson's is very hard to diagnose, so when I finally went to a neurologist and he said, 'Oh, you have Parkinson's disease,' I was completely shocked. I wouldn't have suspected that in a million, billion years."
Ronstadt scored 10 hits in the US top 10 including When Will I Be Loved, Somewhere Out There and the 1975 number one You're No Good.
In the UK, her biggest success came when Don't Know Much, her duet with Aaron Neville, reached number two in 1989.