Apprentice star Luisa Zissman defends apostrophe move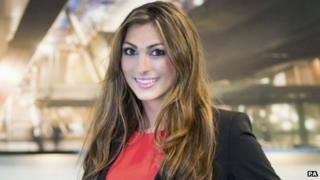 Star of the BBC's The Apprentice, Luisa Zissman, has defended her decision to ditch the apostrophe from the name of her new baking accessories business.
Zissman surprised her Twitter followers by asking: "Is it Bakers Toolkit or Baker's Toolkit with an apostrophe?"
In the end Zissman, who was runner-up in this year's show, plumped for doing without the punctuation mark because "I like the look of bakers".
She told BBC Radio 5 live she thought people had over-reacted to the move.
'Brand feel'
She said: "I really don't know what the big hoo-ha is all about.
"I've ditched the apostrophe. You look at big brands, like Waterstones, who famously ditched their apostrophe last year - it's about marketing, about the look and feel of a brand, and I just don't think it's necessary."
"We are part of a new digital media age where you don't have apostrophes in URL names and I think it can be confusing for consumers if there's an apostrophe in your brand name and they go onto your website and there's no apostrophe in your URL. It's just not used any more."
Zissman admitted she was "never very good at nouns, verbs and pro-verbs" even though she got an A grade in English at A-level.
'Not big deal'
The 25-year-old from St Albans added: "To be honest, this isn't about grammar. I know that the brand name will be grammatically incorrect.
"But it's really not a big deal to me, it's about creating a brand and something that will be recognised and I'm just leading by example. Look at Harrods, Selfridges, Boots - they don't have the apostrophe.
"Obviously in the content of the website, I will put apostrophes in. I will have someone proofread the website for me.
"I'm brilliant at building multi-million-pound businesses but perhaps grammar isn't my strongest point."
Zissman came second in BBC One's The Apprentice after Lord Sugar picked doctor Leah Totton, from Londonderry, to be his new business partner. Zissman's business is expected to launch later this year.