Marvel's Agents of S.H.I.E.L.D to air on C4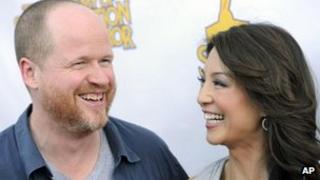 Marvel's Agents of S.H.I.E.LD will have its UK premiere on Channel 4 this autumn after beating rivals, including Sky, in a fierce bidding war.
The US superhero series, a spin-off from hit film Avengers Assemble, is set to launch in the US on the ABC network on 24 September.
It will make its UK debut soon after.
The show is directed, produced and co-written by Buffy The Vampire Slayer creator Joss Whedon, who also wrote and directed Avengers Assemble.
S.H.I.E.L.D is the first live action TV series to be produced by Marvel, in conjunction with ABC Studios and Mutant Enemy, Whedon's production company.
'Autonomous'
"Like the superhero universe from which it has come, Marvel's Agents of S.H.I.E.L.D. is big, bold and absolutely exhilarating," Channel 4 chief creative officer, Jay Hunt said.
"Featuring the production values you'd expect from Marvel and ABC Studios, this is family entertainment at its most exciting."
Agents Of S.H.I.E.L.D follows a team of US secret agents working for the Strategic Homeland Intervention, Enforcement and Logistics Division.
Led by Agent Phil Coulson - played by Clark Gregg - the team are tasked with investigating the emergence of super-humans on Earth, protecting the ordinary from the extraordinary.
The show's biggest secret is how it explains the reappearance of Agent Coulson, who apparently met a grisly end in Avengers Assemble.
The blockbuster film - known in the US as The Avengers - was a global hit when it was released in 2012. It went on to make $1.46 bn (£937m) worldwide.
It is not yet known if any of the stars of Avengers Assemble will appear in the pilot.
According to Whedon, the series will be largely "autonomous" from the Avengers sequel, due in 2015.