Playwright Tom Wells on Jumpers For Goalposts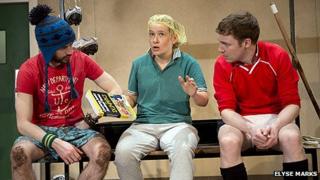 A romantic comedy set in the world of gay and lesbian five-a-side football is the latest play by Tom Wells, who is tipped as one of Britain's best young writers.
Wells's last work, The Kitchen Sink, won him the most promising playwright prize at the Critics' Circle awards in 2011 plus a nomination for most promising playwright at last year's Evening Standard Theatre Awards.
His latest, titled Jumpers For Goalposts, features a team including bossy lesbian head coach Viv, shy library worker Luke and Joe - who is presented with a shirt bearing the words "Token Straight".
Wells, from Hull, explains how he wanted to get away from the stereotypical portrayal of gay people on stage, how being the victim of a homophobic attack influenced the story, and how veteran BBC broadcaster James Alexander Gordon recorded scorelines for his fictional teams Tranny United and Barely Athletic.
How did you start writing?
I did some workshops with a theatre in Leeds called the West Yorkshire Playhouse. I always wanted to be a writer. I didn't necessarily want to be a playwright, but theatres will teach you how to write plays for free and I was spectacularly unemployed. Well, my mum ran a cafe at the time and I was washing up for her. It wasn't a long-term career.
Where did the story for Jumpers For Goalposts come from?
I really love rom-coms and I thought it would be nice if there were some romantic heroes who are not the sort of romantic heroes you expect. The films always seem to happen in very glamorous parts of the world with very beautiful people. I love Hull and it's got its own charm, but it's not Notting Hill.
And often, when you watch a play, there's one gay character who's the token gay, and I thought it would be quite nice to turn the tables a bit. A lot of the gay characters I see on stage are in quite a sexualised environment or a catty environment of a club. My experience of growing up as a gay man is you have mates and you do stuff that everyone does. It would be nice to get away from the "scene".
What do your plays have in common?
Generally they're about people trying their best. There's always at least one gay character and they're always comedies. Quite a lot of them are set in space.
Someone came to stay at my house where I grew up in Kilnsea and there's something about the landscape there - it's really flat and it's coastal so the landscape's quite far away and the skies are really massive.
They said my plays are full of dreamers and I think maybe you can only do that if you've not been crowded in by a city. It just feels like there's space to dream big dreams in a way that there wouldn't normally be, but also you're quite far removed from the means of making those ambitions happen.
Jumpers For Goalposts had an initial run in Watford and is now going on tour - what's the reaction been?
I thought Jumpers For Goalposts was quite sad, but funny. When people saw it in Watford, afterwards there was weeping on the train home. I thought, oh no, it's a rom-com, I've slightly misjudged that.
Things have happened to those characters that are quite difficult. Geoff got beaten up, and it's quite a small thing in the play but it is his drive. When I was writing it, I got beaten up for being gay.
What happened?
Some lads just said I was wearing a gay hat and beat me up. It was in east London and they were just some kids. I was fine.
What surprised me was how surprised everyone else was because I think the world's still a bit more homophobic than you realise if you're straight. It didn't feel like a massive surprise to me that it happened.
Has it fed into this play?
Yeah. I had already been commissioned to write the play but I guess it shaped it. Things like that do make you feel more articulate about certain things.
I think if you want theatre to be inclusive, the worst thing to do would be to write a really lecture-y play. So having a group of characters who just are what they are and are having fun felt to me like a good way of going with it. I'm really proud of the play and what it says about a gay community that you don't see very often on stage.
How did you get James Alexander Gordon to record the scores?
James Grieve - who's directed it - and I sat down and we were trying to work out what the right way of delivering the results was. We said: "There's the dream way of doing it, which is to get James Alexander Gordon to do it." And then he did!
It was so kind. It was amazing. And now he's retired and it feels really special to be using his voice. And there's something really beautiful about hearing his voice read the scores for Tranny United and Barely Athletic. He absolutely took it seriously.
Jumpers For Goalposts opens at the Hull Truck on 29 August before touring to Leeds, Newcastle, Kendal, Scarborough and Ipswich before transferring to London's Bush Theatre in November and December.