The cost of performing at the Edinburgh Fringe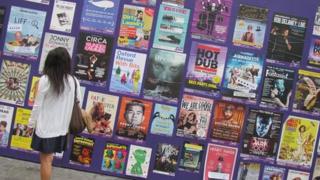 It is the world's biggest arts festival and the ultimate launch pad for new talent. But in recent years debate has raged over whether the Edinburgh Fringe's bubble is about to burst.
Fringe veterans like Stewart Lee have voiced discontent over the fees charged to artists by the "big four" venues - the Assembly, the Underbelly, the Pleasance and the Gilded Balloon.
On top of that, costs for accommodation in Edinburgh skyrocket in August. Some fear up-and-coming performers are being priced out of the Fringe.
And yet the Fringe is still growing. The number of shows was up 6.5% to 2,871 this year.
The Free Fringe, where all shows are free to attend and venues do not charge performers, has flourished. Other venues like The Stand, Forest Fringe and St Stephen's have evolved less onerous deals than those offered elsewhere.
So what is the cost of making your name on the Fringe - and is it worth it? A selection of those who staged shows this year give their experiences.
Ben Van der Velde
"This is the most expensive learning experience of my life," says Ben Van der Velde, who did his first solo Fringe routine at the Underbelly after eight years in group shows.
It has set him back around £5,000, he says. He paid £2,500 upfront to his agent, who he stresses is "a very nice responsible man".
"That covers venue hire, tech hire, all printers, posters, flyerers, my PR and his fee as my agent." They set a target to sell 40 tickets a night, but after attracting around 30 a night he expects he will owe the agent another £1,500-£2,000.
Van der Velde decided against performing on the Free Fringe. "I love the Free Fringe, but you will never know how good you are until you're on the paying Fringe because a paying audience has a very different atmosphere to a free audience," he says.
"I've always wanted to be in one of the big four venues, for all their ills, for the amount of money they charge. It gives you a legitimacy that other places don't."
Has it been worth it? Perhaps in the long run, he says. "It's going to make me a better comic. I now know I can hold an audience's attention for an hour.
"A lot of comics think about the Edinburgh Fringe as a loss leader. You're always going to lose money, but hopefully the other gigs and offers and opportunities you get [as a result] in the other 11 months of the year will make it worth it. And the practice. This is basically comedy boot camp."
Will he come next year? "I would really like to because I feel like I've learned so much. The problem is going to be paying off my debts. I've got until February to pay off my debts and then I've got to start earning money for a deposit again. It's tough.
"More likely I'll come back in 2015. Quite a few comics now subscribe to the idea that you can only come every two years. That's purely a financial thing. The Fringe is too expensive."
Bec Hill
Australian stand-up Bec Hill believes it is possible to perform at Edinburgh without getting heavily into debt.
She has cut accommodation costs by staying with a friend and her flyers have been sponsored by a printing firm. "I either put their brand on the flyer or I'll put a code so anyone who gets a flyer can use that discount to order from their website," she says.
"I would recommend that performers think outside the box. It's a tough game and you've got to do what you can to survive."
Performers should not need to spend more than £3,000-£4,000 including travel and accommodation, she believes. "Anyone who spends more than that is spending unwisely," she says.
"I've never been in any venue other than Gilded Balloon. I can't foresee me moving to another venue because they've become like a family.
"I've got friends who are no longer doing paid venues because they did a 50-seater room and last year they lost £9,000. How do you lose £9,000?
"In every situation it's because they paid a producer, so they got someone who was promoting them, booking ads in newspapers and magazine and putting up billboards and things like that and it's ridiculous. I don't think any of those things are actually converting to ticket sales."
After several years at the Fringe, Hill says she now ends up in the black. "It's taken me a couple of years to get there. With my first show I owed money, but it wasn't £9,000. And then the second I broke even and since then I've always made a nice little amount back.
"We don't do this to make money - we do it to get our names out there and the opportunities that have come out of this have certainly, even after the first year, paid back anything I ended up owing. I think the Fringe can totally be financially viable if you're smart about it."
Matt Lim
"I owe a couple of people a lot of money right now," admits Matt Lim, who wrote and acted in the dark comedy Way Back, about suicides at Beachy Head, at the Underbelly.
Lim and his producers paid a £1,000 deposit to the venue, plus £2,000 as a guarantee against ticket sales. They pay the £2,000 whether or not ticket sales reach that level - and, speaking a few days before the end of the Fringe, Lim says they probably will not.
The whole trip has cost "in the region of £4,000-£5,000", he says. "We were hoping to get funding from one of the university societies but that never really came through so we've split it between the production team and myself.
"We're hoping for a London transfer, which is where we're going to make the money back. We're hoping. We're yet to have it. But that's the plan."
One London venue representative was supposed to see the show but did not turn up, although a five-star review on the Three Weeks website at the end of the run did hail it as "an incredibly acted and thoughtful piece".
'Soul destroying'
What has the audience reaction been? "The people that have come have really, really enjoyed it," Lim says. "There are so many shows on at the Fringe that I've been told the average audience is about six."
Are they above or below average? "It varies. Sometimes we have 16. Sometimes we have three. One day we had one, which is kind of soul destroying." It "really is very, very tough" to get noticed, he says.
Has it been worth it? "Fiscally, it's been kind of a bankrupting experience," he replies. "But I've really enjoyed being up here and luckily we love the play.
"There's every chance that you can fall out with your cast members when it doesn't go right or you start to hate the play that you're in, but we've not had that because we love the play and we like working together.
"We had this amazing review yesterday and we're taking the positives from that. It's very much a learning curve as well, in terms of what we've learned about marketing and about ourselves."
David Edmunds, DepArts
Producer David Edmunds is a veteran of 20 Fringes and this year his company DepArts staged seven theatre and dance shows, from the six-man 2Faced Dance to a one-woman play in a minibus.
The Fringe is critical for securing tour dates for the following year, he says. Not attending is not an option.
"From our point of view it does work and it's a key part of our year in terms of promoting the work and getting that venue interest," he says. "It's certainly not something we'd envisage not doing. The benefits are still there, even though there's a cost."
A show by Bristolian music and theatre company Fine Chisel won a Fringe First award and garnered a string of good reviews.
"That financial risk for them will have really paid off because that's their next year sorted off the back of having a good show up here," Edmunds says. "They won't have made any money on it but they will have covered their costs and that exposure for them is absolutely key."
Most of his shows break even because they are in venues like St Stephen's, which do "viable" deals, and Edmunds says he only brings shows he is confident will work.
"If we had a company with 20 dancers who wanted to be here all month and weren't really known, that's a recipe for financial disaster," he says. "It's about being realistic about what is achievable.
"The danger is for younger companies who just end up in a venue in the middle of nowhere with very little PR support. There are a lot of venues in Edinburgh who will stick you in their brochure and you sink or swim. They're the ones that rack up a huge amount of debt and maybe had unrealistic expectations about what they were going to get out of Edinburgh.
"It is getting more expensive. The smaller amateur companies and a lot of the youth theatres who used to be here have almost completely disappeared."
Mike Shephard
Comedian Mike Shephard has been going to the Fringe for a decade, but this year was his first solo stand-up show. He tackled the history of the 20th Century in a pub as part of the Free Fringe.
The trip has cost £5,000, he says. "It's money that I saved to do this, so I haven't put myself into debt. I anticipated that I was not going to get it back. I was reconciled to that thought before I came here."
After each show, he collected an average of £50-£60 in donations, all of which went into his pocket, he says.
"I had a choice - I could pay for a venue but probably couldn't afford to pay for any PR or publicity, or do the Free Fringe and afford to pay for publicity.
"That was the choice I made and it's been good because I've always had full rooms of people, admittedly who don't have to buy tickets, but they're quite generous when they walk past me holding a bucket at the end.
"None of us are here for the money. We're here so people go from saying 'Who the hell is that?' to 'Oh yeah, it's that guy.'"