Edinburgh Fringe comic Bec Hill gets engaged on stage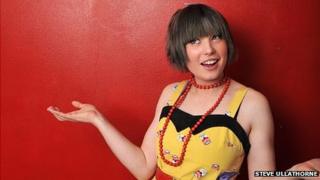 A comedian at the Edinburgh Fringe got an unexpected heckle when her boyfriend proposed in the middle of her show.
When Bec Hill put a question to the audience, her boyfriend Gavin Innes, who was sitting at the back of the room, put up his hand and got on stage.
"He proposed and then I nodded and cried," she said. "And then he said, 'You have to finish the show now.'
"I had 10 minutes left to do so I performed 10 minutes with tears streaming down my face."
The proposal came during Monday's performance of the Australian comedian's stand-up routine titled Bec By Popular Demand.
"I was doing the show and there's a bit where I ask if anyone's got a back-up plan for if someone tried to mug them, and I do a bit of audience banter," Hill said.
"This hand at the back went up and I saw this person stand up and I thought, 'oh my gosh, some weirdo's going to storm the stage'. They started walking toward the stage and they said 'I'd propose.' Then he came on stage and it was him."