Michael Palin plays God in Spamalot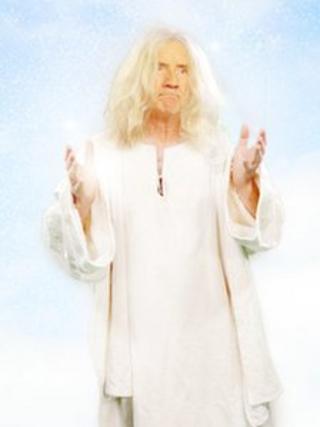 Michael Palin is to play the role of God in the Monty Python musical Spamalot, in London's West End.
Palin's performance, which has already been filmed, will be included in shows from 26 to 31 August.
Fellow Monty Python Eric Idle usually plays God but this summer other stars have taken over the role to raise money for charity.
It comes as it is announced the show will have its run extended until 8 February 2014.
Other stars who have filmed the role of God include Barbara Windsor, Christopher Biggins, Hugh Bonneville, Larry Lamb and Bradley Walsh.
Palin has chosen Action for Stammering Children as his nominated charity.
The musical currently stars Bonnie Langford as the Lady of the Lake, and Les Dennis as King Arthur.
Warwick Davis will soon join the cast as Patsy from 23 September until 19 October.
Spamalot, which was written by Eric Idle, is on at the Playhouse Theatre.
The show is based on the film Monty Python and the Holy Grail, about a group of medieval knights searching for the religious relic.
But Spamalot also spoofs Broadway and various musicals, including those of Andrew Lloyd Webber.
It premiered on Broadway in 2005 and went on to win three Tony Awards, before coming to London in 2006.