About Time charms and soothes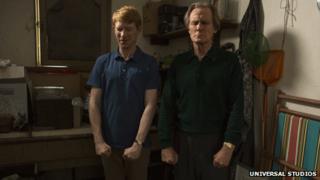 Writer and director Richard Curtis is known for making films that are engaging, charming and witty in a quintessentially English milieu.
The style brought him international success with Notting Hill, Four Weddings and a Funeral and his directorial debut, Love Actually.
His latest movie, About Time, starring Harry Potter alumnus Domhnall Gleeson, veteran British actor Bill Nighy and Rachel McAdams treads similar water but with one very different element running throughout.
Tim Lake (Gleeson) discovers from his father (Nighy) on his 21st birthday the men of his family can travel through time by simply standing in a dark cupboard with clenched fists.
Think Groundhog Day without the time loop and a heavy dose of schmaltz.
"I was trying to make an anti-time travel, time travel movie, about how delightful life can be if we focus on the right things," explains Curtis.
"The time travel element is a way of illustrating a simple message about how we should treasure life, in as funny a way as I can."
Curtis is no stranger to writing about time travel - he penned scripts for Doctor Who and the short film Blackadder: Back and Forth.
'Quirky and shy'
He says the initial inspiration for About Time came from a conversation with a friend about how they would spend their time if they had just one day left on earth.
"We both agreed we wouldn't do anything special. We wouldn't hope to win an award or go to Venice, we would just spend time with our friends, make breakfast for our kids, walk around where we live or have lunch with someone we love."
And so, as the story unfolds, we see a bumbling Tim use his power in his romantic pursuit of Mary (McAdams), spending a lot of time running from bedroom to cupboard, as he attempts to correct his mistakes and win her heart.
"I thought Mary was interesting," says a stunning McAdams, who bears little resemblance to her girl-next-door character.
"She wasn't just the straight up ingenue that had to be likeable. She was quirky and a little bit shy, but not necessarily shy when she meets the guy she feels good around.
"I really fell for everyone in it," she says.
McAdams and Gleeson's burgeoning relationship takes centre stage for the first half of the film, but as the second half plays out Gleeson takes fewer trips back in time as he becomes more present in his current life.
'Everyman quality'
When he does, the audience is treated to some heart warming scenes between Nighy and Gleeson that emphasise Curtis' point about treasuring life and the things you already have, albeit in a grand country house on the edge of a cliff in Cornwall.
"It was very easy and natural to capture the tender relationship with Domhnall," says Nighy, adding: "We seemed to ease into it."
Curtis says casting Tim was the "biggest decision of the movie". He wanted someone with Hugh Grant's "wonderful everyman quality" and "precise comic timing".
With his knitted jumpers and Irish brogue completely hidden by a convincing English accent, Gleeson - the son of actor Brendan - is every bit the picture of middle-class English ordinariness.
McAdams credits the 30-year-old with being "the greatest acting partner anyone could wish for" and Curtis "for making us all feel so comfortable".
Comfortable is an apt word to describe About Time - it's a film you imagine curling up to watch under a warm blanket while snowflakes fall from the sky outside.
The critics who have always disapproved of the wealthy, middle-class milieu evident in many of Curtis' previous films will undoubtedly pour scorn on this one for similar reasons.
But, by his own admission, Curtis has never set out to make dangerous or edgy films.
Serial killers
"I'm glad to be making movies about how delightful life can be and the way I see life, because I think if you look around you, there aren't as many superheroes and serial killers as other movies might imply.
"It's funny because my movies are often accused of being unrealistic, and I think - wow - so the realistic ones are the ones in which men come from weird planets?
"We've even got a TV show in which there's a serial killer who only kills serial killers. Yet, I was on Southwold beach the other day and looking along there seemed to be a lot of families and a lot of people who love each other and not that many serial killers, as far as I could tell."
Nighy, who has appeared in four Curtis films and admits he has a "special switch that gets pulled" when he gets the call to appear in a Curtis movie, loved the philosophical suggestion about appreciating the simple things in life.
He was also intrigued by the "relatively low-fi element" of time travel.
"Given the films we routinely go and see, which are - to put it mildly - high concept, I liked the cottagey feel of this version, that you simply go into a cupboard and close your fists, close your eyes and think about the place you want to go back to.
"I was interested to see how we were going to pull it off, but it said in the script you just go into a cupboard. That sounded all right to me."
It has taken Curtis 13 years to bring About Time to the big screen after he wrote the first paragraph in 2000.
He says it will be his last in the director's chair "for the moment", although he plans to continue writing.
"I'm paying attention to the message in the movie, to relish every day and the ordinary things in every day. Directing a movie gives you a thousand unordinary days full of decisions and agonies.
"Writing is more anecdotal and easy so, for the moment, that's my thought."
About Time is released in UK cinemas on 4 September.