Planes soars above Kick-Ass 2 at UK box office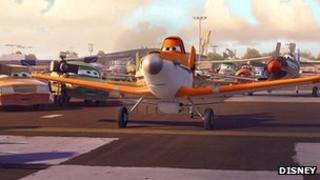 Disney cartoon Planes outpaced Kick-Ass 2 at the UK and Ireland box office over the weekend, taking £1.74m in its first three days on release.
The vast majority of cinemagoers opted to see Disney's Cars-inspired spin-off in a non-3D format.
2D screenings accounted for almost 80% of the film's takings - £1.37m in all - between Friday and Sunday.
Comic book sequel Kick-Ass 2 took £1.48m between Friday and Sunday.
Having opened in cinemas on Wednesday, however, the film is ranked at number one in the official box office chart.
The film, about American teenagers who decides to become real-life superheroes, made a further £1m from its first two days on release, taking its overall takings to £2.48m.
The combined star power of Denzel Washington and Mark Wahlberg in 2 Guns helped the action comedy claim third place in the chart with takings of £1.42m.
US comedy Grown Ups 2 showed off its staying power landing at number four despite a 46% drop in takings, while horror flick The Conjuring completed the top five with earnings of £973,073, a drop of 40% from the previous week.
Last week's number one film, Alan Partridge: Alpha Papa starring Steve Coogan, dropped out of the top five.
Meanwhile, animated sequel Despicable Me 2 has overtaken Les Miserables to become the highest-grossing film of 2013 at the UK box office.
The Universal release, about the further adventures of a reformed super-villain, has taken £42.67m since it was released in the UK and Ireland on 28 June.
According to its distributor, the film is now the fourth most successful animated release in the UK behind Toy Story 3, Shrek 2 and Toy Story 2.
"When we first saw Despicable Me 2, we knew we had something quite special on our hands," said Universal's David Kosse.
"We're delighted that UK audiences have continued to enjoy it as much as we do."