MasterChef judge Gregg Wallace 'involved in brawl'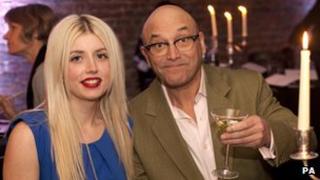 MasterChef judge Gregg Wallace brawled with another man at a dining event held at a Worcestershire hotel this weekend, according to newspaper reports.
It is claimed Wallace, 48, took issue with the unnamed man and knocked him to the floor as stunned guests looked on.
Reports in Monday's tabloids say he was reacting to comments or advances made to his girlfriend, Anne-Marie Sterpini.
The TV star's spokesman confirmed he had been "involved in a disagreement" that was "swiftly resolved".
The alleged incident took place at the Wood Norton Hotel in Evesham at a ticketed event billed as 'Dinner with Gregg Wallace'.
A photograph in The Sun appears to show Wallace being restrained as he grapples with another man.
According to an unnamed source quoted in the Daily Mail, the pair quickly made up and "shared a whisky in the bar together".
The Daily Mirror quotes another unnamed source, saying the man whom Wallace took issue with had called the incident "something and nothing".
Market trader turned restaurateur Wallace has co-hosted BBC cooking show MasterChef with John Torode since 2005.