Blurred Lines stars fights copy claim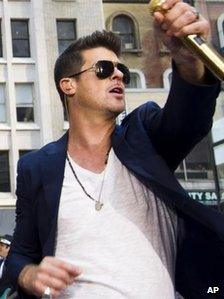 The trio behind the summer hit Blurred Lines have taken legal action against Marvin Gaye's family and Bridgeport Music to rebuff claims of plagiarism.
It follows claims of similarities between their hit and other songs, including Gaye's Got to Give it Up.
Musicians Robin Thicke, Pharrell Williams and Clifford Harris Jr insist there are no similarities "other than commonplace musical elements".
The track was created "without copying anyone else's composition," they claim.
The legal action, which follows reported requests for monetary recompense from both the Gaye family and Bridgeport Music - which owns some of 70s funk band Funkadelic's compositions - was filed at California's federal court on Thursday.
"Plaintiffs, who have the utmost respect for and admiration of Marvin Gaye, Funkadelic and their musical legacies, reluctantly file this action in the face of multiple adverse claims from alleged successors in interest to those artists," said court papers obtained by the Hollywood Reporter.
"Defendants continue to insist that plaintiffs' massively successful composition, Blurred Lines, copies 'their' compositions."
The Gaye family is alleging that Blurred Lines and Gaye's Got to Give It Up "feel" or "sound" the same; similarly there are claims of similarity between Thicke's hit and Funkadelic's Sexy Ways.
Court papers state: "Gaye defendants are claiming ownership of an entire genre, as opposed to a specific work."
"But there are no similarities between plaintiffs' composition and those the claimants allege they own, other than commonplace musical elements," say legal documents.
"Plaintiffs created a hit and did it without copying anyone else's composition.
"Being reminiscent of a 'sound' is not copyright infringement. The intent in producing Blurred Lines was to evoke an era."
Thicke, Williams and Harris Jr have also sought clarity on the claims made by the Gaye family - who have yet to comment on the legal action.
The trio said descendents of the singer - who was shot dead by his father in 1984 - "do not have an interest in the copyright to the composition Got To Give It Up sufficient to confer standing on them to pursue claims of infringement of that composition".
Related Internet Links
The BBC is not responsible for the content of external sites.