Natasha Kaplinsky 'forced' to do Strictly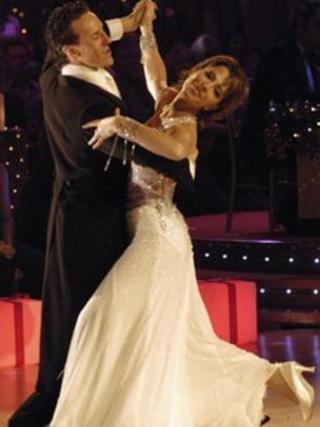 Newsreader Natasha Kaplinsky has revealed she was "forced" to take part in BBC TV hit Strictly Come Dancing.
"I got completely forced and put into a corner," Kaplinsky - who went on to win the first series of the talent show in 2004 - told The Daily Mirror.
"I'd just started at BBC Breakfast and obviously the bosses at Strictly had a shopping list and a newsreader was on it and I was their easiest target."
"I honestly tried every single excuse not to do it. I was petrified."
Kaplinsky joined BBC Breakfast in 2002, alongside Dermot Murnaghan, and made her debut on Strictly in May 2004.
"It's not easy to be a female in the journalistic world," Kaplinsky told the Mirror.
"I worked very hard to get to the BBC and I felt really concerned that Strictly Come Dancing was going to change how people would perceive me and, to a certain degree, it did.
During the series, rumours of an affair with her dance partner Brendan Cole erupted, culminating in the collapse of Cole's relationship with fellow dancer Camilla Dallerup.
But Kaplinsky insisted that there was no relationship between her and Cole.
"There was chemistry, of course, and I certainly fell in love with dancing, but I did not fall in love with Brendan," she said, at the time.
However, her appearance on primetime television - a series which was to become one of the BBC's biggest hits - also made Kaplinsky a household name.
She went on to co-host part of the second series of Strictly Come Dancing, as a stand-in for Tess Daly who was on maternity leave.
And in 2008, she signed a reported a £1m deal with Channel Five, becoming the UK's highest-paid newsreader. Her arrival at Five was credited with a 72% increase in the audience for its bulletins.
Kaplinsky has since had two children with husband Justin Bower, whom she married in 2005.
She left Channel Five in 2010, and joined ITV News the following year.
Strictly Come Dancing returns to BBC One this autumn for its eleventh series.