Scarpetta film a step closer after Cornwell book deal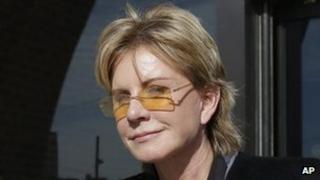 A film based on Patricia Cornwell's famous protagonist Dr Kay Scarpetta has moved a step closer following a publishing deal with HarperCollins.
The two-book deal is reported to be worth at least $10m (£6.3m).
The best-selling novelist's first book with HarperCollins imprint William Morrow is expected in autumn 2014.
Elizabeth Gabler, president of Fox 2000 - a sister company of HarperCollins - which is developing the film, hopes to have a movie ready in 2015.
"One of our greatest priorities is to begin production on the film as soon as possible," said Ms Gabler, who played an "influential role" in Cornwell's move from Penguin, according to the Hollywood Reporter.
Michael Morrison, the president and publisher of the General Books Group at HarperCollins, added: "Knowing that Elizabeth and her team were high on [a film] definitely influenced our acquiring the books."
He said William Morrow had "good synergy" with Fox 2000, noting their previous collaborations on Marley & Me, starring Jennifer Aniston and Owen Wilson.
Cornwell introduced her protagonist, the chief crime solving medical examiner Dr Scarpetta, in 1990 in Postmortem, the first book in the Scarpetta series.
Since then the books have sold more than 100 million copies worldwide.
The film project was optioned by Fox 2000 in 1990, with Angelina Jolie later mooted to play the lead role.
In 2012, Cornwell told BBC News that the film was in "screenplay development".
"When [Fox 2000] get the script exactly the way they want, then we [will] get a director and then we will see who is cast."
William Morrow outbid two other publishers to win the deal during a week-long auction arranged by Cornwell's agent, Esther Newberg.
Cornwell, who has been with Penguin for 18 years, is the first major writer to leave the publisher since it merged with Random House last month.
The author's last book with Penguin will be published in November. Dust is the 21st novel in the Scarpetta series.
Earlier this year, Cornwell won a $51m (£33m) lawsuit against her former financial managers, Anchin, Block and Anchin, after a jury agreed their negligence cost her millions in losses.