Michael Jackson's ex-wife recalls star's fear of pain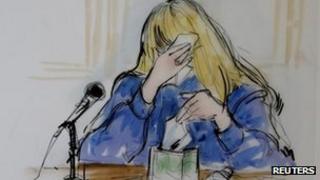 Michael Jackson's former wife broke down in court as she told of the pop star's "incredible" fear of pain.
"Michael had a very low pain tolerance," Debbie Rowe, mother to the singer's two elder children, told Los Angeles Superior Court.
"His fear of pain was incredible. I think the doctors took advantage of him that way," she said.
Ms Rowe was giving evidence in a civil action filed by Katherine Jackson over her son's death in 2009.
The Jackson family claims concert promoter AEG Live failed to properly investigate Dr Conrad Murray - the former cardiologist who was convicted of involuntary manslaughter in 2011 - and missed warning signs about the singer's health.
Ms Rowe, who met the singer while working for dermatologist Dr Arnold Klein, was married to Jackson from 1996-1999.
"Unfortunately, some of the doctors decided that when Michael was in pain they would try to see who could give him the best painkiller," said the 54-year-old former nurse.
In court, she recalled seeing Jackson administered with the surgical anaesthetic propofol - the drug which ultimately killed him - in 1997, when he was struggling to sleep during the HIStory tour in Munich.
'End of his rope'
She claimed, at the time, the doctors warned Jackson about the dangers of using propofol, but he disregarded the information.
"Michael was at the end of his rope."
"He was more worried about not sleeping than dying because he couldn't perform [without sleep]," said Ms Rowe, who became frustrated by the line of questioning in court, at one point shouting at lawyers representing AEG.
She also described efforts to wean Jackson off painkiller Demerol, following surgery in 1993 for burns to his scalp which happened while filming a Pepsi advert. Efforts failed when a doctor who accompanied the singer on tour gave him the drug while overseas.
AEG Live has argued Jackson had prescription drug and addiction problems long before entering into any agreement with the company.
The company has argued that it did not hire or supervise Murray and could not have foreseen that he posed a danger to Jackson.
Ms Rowe will continue testimony under cross-examination by Katherine Jackson's lawyers on Thursday.