Anchorman Ron Burgundy writes 'tell all autobiography'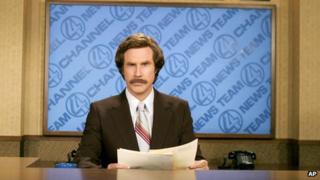 Anchorman star Ron Burgundy, the alter-ego of comedian Will Ferrell, is to release an "autobiography" in November.
Let Me Off At The Top: My Classy Life and Other Musings promises to "tell all" about his rise to the top.
A statement issued on behalf Ron Burgundy said he was "too close to the work" to tell if it is "the greatest autobiography ever written".
"I will tell you this much: The first time I sat down and read this thing... I cried like a goddamn baby," he added.
"And you can take that to the bank."
The mustachioed TV newsreader was the star of the 2004 hit film Anchorman: The Legend of Ron Burgundy.
His "life story" will be published on 19 November, while a sequel to the film The Legend Continues, is due out on 20 December.
'Sage advice'
A press release from publishers Random House said the book would "offer a rare glimpse behind the camera into the real life of a man many consider to be our greatest living news anchor".
They promised "personal anecdotes about the women in his life, about his dog, Baxter, and his legendary news team" and said he would also "give sage advice on a variety of topics that matter most to him".
Last year, another fictional autobiography, of Steve Coogan's alter-ego Alan Partridge, sold more than 225,000 copies in the UK.
The original Anchorman movie made $91m (£57.2m) at the global box office, making the oafish Burgundy character a cult figure.
The film saw Burgundy's position as the king of the male-dominated newsroom challenged by the arrival of a new young female presenter.
It also starred Steve Carell as a slow-witted weatherman Brick Tamland, while Paul Rudd was roving reporter Brian Fantana. Both will return for the sequel.