Toronto Film Festival: Why the festival matters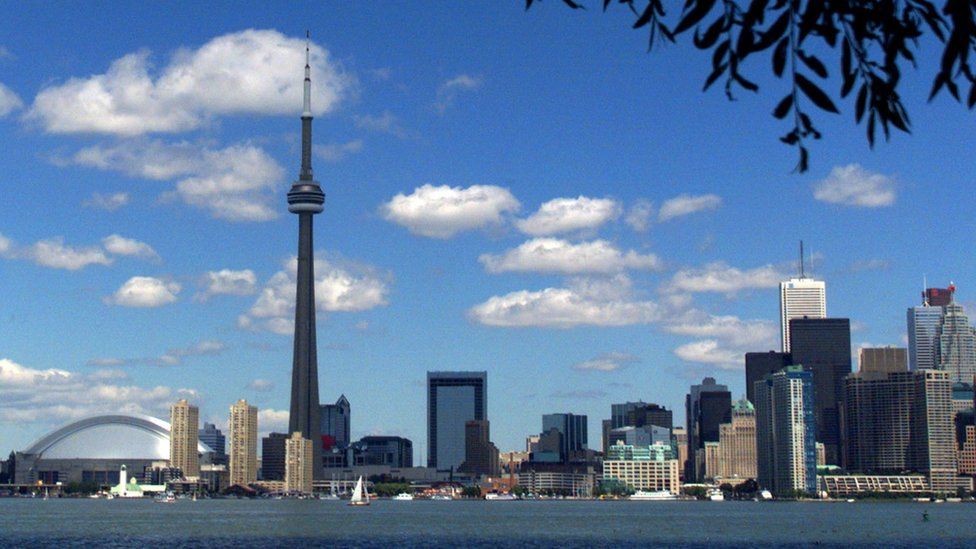 Sundance has snow, Cannes has sand while Venice has canals. But what makes the Toronto Film Festival special, and why is it now one of the most important events on the industry calendar?
BBC News journalist Neil Smith went to the festival in 2013 for the first time and asked some regular attendees what sets the event apart, what it is like to go there and why it has gone from strength to strength.
Two hundred and eighty-eight features. More than 140 world premieres. Fifteen separate programmes featuring films from 70 different countries.
Whichever way you slice it, the 2013 Toronto International Film Festival - TIFF for short - is a gargantuan event.
Since it was first held in 1976 the festival has grown exponentially, aided in part by its apposite positioning at what is widely considered the onset of the annual film awards season.
From American Beauty and Crash to Slumdog Millionaire and The King's Speech, the annual Canadian showcase has consistently served as a crucial launch-pad for movies that have gone on to receive glory and plaudits.
A positive response in Toronto in September can get the ball rolling on an awards campaign that could result in that most coveted of accolades - an Academy Award - at the end of the following February.
Small wonder the event bursts at the seams with promising new titles, all hoping to generate the all-important buzz that, if handled correctly, can translate into prizes, honours and the lucrative international box office that go with them.
"Toronto has become this extraordinary platform for many of the most serious films by some of the greatest film-makers in the world," says British actor Tom Hiddleston.
"The summer is over, it's a new season of film viewing and Toronto is there to herald that."
The British star of Thor, The Avengers and War Horse can speak from experience, having seen at first hand the importance of having a title in the festival programme.
When his period drama The Deep Blue Sea premiered there in 2011, it had yet to secure a North American distributor.
By the end of the festival, its rights had been sold to Music Box films, whose canny marketing helped its star Rachel Weisz land a Golden Globe nomination for best actress.
"It's a very good place to launch to North American distributors in particular, and it's quite often where you'll make your US domestic sale," says Sue Bruce-Smith, head of commercial and brand strategy at Film4.
"It's positioned itself very well, both in terms of the calendar and also the support it's shown film-makers over the years.
"It's always been supportive of British films and there have been many careers, particularly directors' careers, that have been launched off the back of it.
"The programming is very good and it is always significant if you are chosen - it's seen as a mark of quality."
Unlike Cannes, Venice and many other leading festivals, Toronto does not appoint an international jury to sift through an official selection of films and garland those it finds most worthy.
Instead it asks its audience - a passionate, enthusiastic clientele who number in the thousands - to do the sifting for them, inviting them to name a "People's Choice" in a public ballot.
"It's an intelligent, literate crowd," says Hiddleston, who will be going again this year to support Jim Jarmusch's vampire romance Only Lovers Left Alive.
"It's very discerning, very engaged and full of people who love cinema of every stripe, shape and genre."
"Some will say 'oh, that's just Toronto, they're so kind and positive'," says Sue Bruce-Smith. "But I think that's just being cynical.
"The audiences are generally passionate about good film and that's what they're getting when they go and see this selection."
"Toronto really seems to me to be all about film," adds Hiddleston. "There's no kind of subsidiary interest in glamour or in fashion."
Not that the event will be without those elements. Indeed, the festival boasts a plethora of glitzy red-carpet premieres that, for a few days in September, will place the city in the full glare of the international media spotlight.
For some that glare is best appreciated in small doses. British director Ben Wheatley, for example, has no plans to linger once his latest film A Field in England has screened as part of the experimental Wavelengths strand.
"I usually go in, do a Q&A and get out," says the film-maker, who has two previous visits to Toronto under his belt. "I don't hang about."
"The key dates of the festival are the Thursday through to Tuesday," explains Bruce-Smith.
"I think the organisers are sometimes frustrated by the fact that everyone wants to go there for the opening weekend."
With hundreds of distributors, exhibitors and backers in attendance, it makes sound business sense for a film to have a presence during that window.
According to Britain's Roger Michell, though, being at the festival does not automatically guarantee a positive outcome.
"When you go to a festival like Toronto, you're impressed by what a huge world your film is entering into," says the Notting Hill director, who will be in town to promote his Paris-set drama Le Week-end.
"You're an atom, a speck, an ignorable figment, and it's very hard to make your presence felt."
"It's kind of a behemoth," agrees Wendy Mitchell, editor of industry paper Screen International. "It's a perfect storm of a film festival.
"If there's a drawback to Toronto, it's that the programme's too big. Nobody can get a handle on it all: no publication, no critic."
"The complaint now, is that there's so many films to see in Toronto," says Sue Bruce-Smith. "It creates a problem in terms of how you get films to pop out and be distinctive.
"That's the challenge Toronto faces - making sure it allows visibility for all its films. The more films they take, the more difficult that challenge becomes."
Statements like that might well strike fear in the heart of a reporter who is preparing to attend the event for the very first time.
What advice would a seasoned attendee offer to an inexperienced newcomer like myself?
"It's colder than you think, so bring a jumper," says Hiddleston. "Leave your evenings free for parties and receptions," counsels Mitchell.
Veteran film critic Nick Roddick, meanwhile, says it is best to "get to screenings 45 minutes early, or you won't get in."
"Your experience will be so different from mine," sighs Michell. "I'm going for one night, I'm going to two screenings of my film and I won't be able to see any others because I'll be locked away doing interviews.
"You, on the other hand, will see lots of fabulous and interesting films, meet some fascinating people and get to enjoy being in Toronto as well.
Related Internet Links
The BBC is not responsible for the content of external sites.