BBC denies £150,000 Thailand 'partying' claim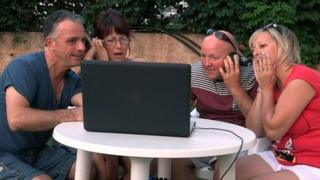 The BBC has denied claims it "wasted" £150,000 on a show in Thailand after an episode was reportedly scrapped.
The Sun reported the crew for BBC Three show Sun, Sex and Suspicious Parents spent 10 days "partying" in Phuket at the licence fee payer's expense.
It claimed a gap was left in the filming schedule after one of the participants of the undercover show pulled out at the last minute.
The BBC said there was "no truth" to the newspaper's claims.
The BBC Three programme - which has been broadcast since 2011 - follows groups of young people on their first holiday abroad alone, unaware their parents have secretly travelled to the same destination to spy on them.
Commissioned by the BBC, the programme is made by independent production company RDF which also uses its own crew.
'Long hours'
The BBC said in this instance two sets of friends had been due to travel to Thailand in June to take part in the show, however one pulled out due to personal reasons.
Filming continued with the other group of friends as planned by the TV crew - who had flown out ahead to set up the production - while a new group was recast.
"No episodes of Sun, Sex and Suspicious Parents have been axed in this series and therefore there is no truth to the claim that we have had to write-off £150,000," a joint BBC and RDF TV statement said.
"Production schedules were amended due to a change of contributors but the production team continued to work and film other material for the series."
The BBC added it was untrue to say there was a 10-day break in filming, or it was it an "all-expenses-paid jaunt".
It said all scheduling and budget arrangements on location were decided by RDF - whose crew were allocated five days off during the 34-day shoot - and all leisure expenses were paid by the crew themselves.
"As with all productions, staff work very long hours, with the right to some time off," the statement continued.
"RDF followed all BBC guidelines whilst filming the series and it will deliver in full, and for the original BBC programme budget."