Sony pulls out of radio award sponsorship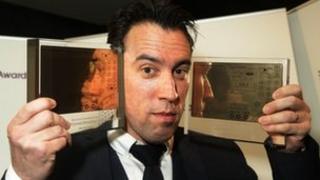 Technology firm Sony has dropped its sponsorship of the annual Radio Academy awards after 32 years.
The ceremony, seen as the radio equivalent of the Baftas, has presented awards to the likes of Chris Evans, Sir Terry Wogan and Christian O'Connell.
This year John Humphrys took home the journalism award for his grilling of former BBC boss George Entwistle over the Jimmy Savile scandal.
Sony said it was time to "move on" but gave no other reason for its decision.
The organisers of the event said it would be renamed The Radio Academy Awards and that a new sponsor will be announced soon.
Ben Cooper, chairman of the academy, said the ceremony would "continue to celebrate the very best of the UK radio industry".
"It is now time for Sony to move on and focus on other areas of the business," said Chris Bowen, from Sony United Kingdom and Ireland.
"We wish The Radio Academy every success and we are delighted to have played our part in making these awards the most credible radio awards, not only in the UK but worldwide."
The ceremony is not the only one to shed a sponsor in recent years.
Hedge fund The Man Group pulled out of the $30,000 (£19,000) Man Asian literary prize last October, while Orange stopped sponsoring the Orange Prize in 2012.
The latter was funded by private sponsors, including Cherie Blair, until drinks firm Baileys stepped in.
Companies taking over an established award can sometimes have a rocky ride.
The Edinburgh Comedy Awards are still habitually referred to as the Perrier Prize, even though the sponsorship deal ended eight years ago.
Each of the award's subsequent backers, including Intelligent Finance, Absolute Radio and Fosters, have failed to put their stamp on the accolade.