Unseen Jerry Lewis film footage leaks online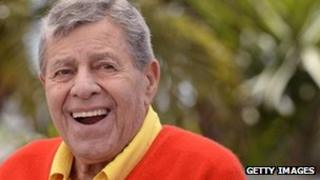 Film footage which US comic actor Jerry Lewis said would never see the light of day has appeared on YouTube.
Lewis withdrew his movie The Day The Clown Cried after it was completed in 1972. As recently as May, he told journalists in Cannes: "I thought the work was bad. I lost the magic."
The film told the story of a clown used to entertain children in a Nazi death camp during WWII.
The footage shows Lewis in costume and giving behind the scenes direction.
The production was plagued with problems including a shortage of money with Lewis reportedly ended up paying costs to finish the film.
Speaking at the Cannes Film Festival in May, where he had a film showing for the first time in more than 20 years, Lewis told reporters: "No one will ever see it, because I'm embarrassed.
"I believed in the work and the way it should have been, and it wasn't."
In the film, Lewis played a failed clown name Helmut Doork who, after being locked up in a Nazi camp for drunkenly mocking Adolf Hitler, is used by officers to entertain Jewish children on their way to Auschwitz.
The actor also wrote the movie, based on another script by Joan O'Brien and Charles Denton.
The Simpsons and Spinal Tap star Harry Shearer saw a private screening in 1979 and told Spy Magazine: "This movie is so drastically wrong, its pathos and its comedy are so wildly misplaced, that you could not, in your fantasy of what it might be like, improve on what it really is."
The footage apparently first surfaced on a Flemish website last year.