Val McDermid ink attacker given restraining order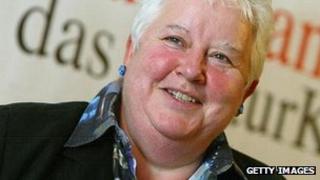 A woman who threw ink at crime author Val McDermid over a long-term grudge has been given a restraining order.
Sandra Botham from Sunderland claimed the writer referenced her husband's 1990 murder in her non-fiction book, A Suitable Job for A Woman, in 1994.
Botham accused McDermid of painting an unflattering portrait of her and was convicted in July of throwing ink in her face at a book signing event.
She was ordered to pay £50 compensation but said she will launch an appeal.
Botham had disguised herself in a blonde wig and hat to carry out the assault at Sunderland University in December last year.
She had borne a grudge against McDermid over her book and its apparent depiction of her late husband George, who was shot dead on his doorstep.
The book referred to a woman called Sandra who was shaped "like a Michelin Man".
Her defence lawyer said she felt "abused" after reading the chapter and comments made on social networking sites.
When the two met in court in July, following Botham's charge of common assault, she had told the Scottish author: "We meet again."
McDermid said she had never met Botham prior to the assault.
Botham had stormed out of the trial and was re-arrested for failing to attend a later court date on 31 July.
At Sunderland Magistrates Court on Friday, Botham was sentenced in absence, having been taken down to the cells after turning her back on magistrates and describing the proceedings as a "kangaroo court".
She received a restraining order forbidding her from contacting McDermid for an unspecified period of time.
McDermid is currently appearing at the Edinburgh Book Festival and was not at court for the sentencing.