Harding starts job as BBC News director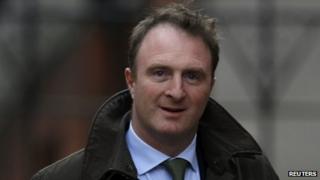 James Harding, the former editor of the Times, is starting his new job as the BBC's director of news and current affairs on Monday.
Since his appointment was announced in April, Mr Harding, 43, has spent time with the corporation's news teams to familiarise himself.
He said in July that he wanted "an ambitious BBC" not "an apologetic BBC".
Mr Harding is also the Times's former business editor and was Washington bureau chief for the Financial Times.
He is taking on the BBC job following criticisms of its handling of two Newsnight crises - one over the failure to broadcast an investigation into sex abuse allegations against Jimmy Savile and a subsequent programme that led to former Conservative Party treasurer Lord McAlpine being wrongly implicated in claims of child abuse.
Mr Harding said at the Journalists' Charity annual lunch in July that the BBC had made its "fair share" of apologies, but that licence fee payers did not want an apologetic national broadcaster.
His appointment was hailed by BBC director general Tony Hall in April, who said: "High quality journalism is at the heart of our organisation.
"I believe James will give News a renewed sense of purpose as it moves on from what has been an undeniably difficult chapter."
The director general added that Mr Harding would bring "the benefit of his external perspective and experience to the senior executive team and wider organisation".
Mr Harding, who will receive a salary of £340,000, said he was "honoured" to be a part of the BBC's newsroom that is "trusted for its accuracy, respected for its fairness and admired for the courage of its reporting".
Early career
His predecessor, Helen Boaden, moved to a new role as director of BBC Radio in March.
Ms Boaden had to step aside for a period from November last year, along with her deputy Steve Mitchell, in the wake of the Savile investigations.
She returned to her job just before Christmas, after the Pollard Review criticised BBC management but found no evidence of a cover-up over the shelving of an investigation into Savile by Newsnight.
At the same time Mr Mitchell's resignation was accepted by the BBC.
Mr Harding began his career at the Financial Times in 1994 where he opened a bureau in Shanghai.
He was the FT's media editor for three years and went on to become Washington bureau chief in 2002.
He joined the Times in 2006 as business editor before being appointed editor of the paper in 2007.
He resigned last December, saying it had been made clear that publishers News International wanted a new editor.
During the Leveson Inquiry examining the culture, practice and ethics of the press, he publicly apologised for a Times reporter who allegedly hacked into Lancashire police detective Richard Horton's email account to write a story.
When Mr Harding resigned in 2012, the chairman and chief executive of News Corp Rupert Murdoch called him "a distinguished editor" who had led the paper through "difficult times".