Wizard of Oz to be adapted into TV medical drama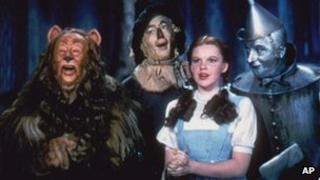 US broadcaster CBS is to develop a medical drama, based on the classic fantasy film, The Wizard of Oz.
American magazine Entertainment Weekly reported that the series, called Dorothy, will be set in New York City.
It is described as being "inspired by the characters and themes immortalized in The Wizard of Oz".
The 1939 film saw Dorothy, played by Judy Garland, and her dog, Toto, swept away to a magical land in a tornado.
The movie, based on the book, The Wonderful Wizard of Oz by L Frank Baum, follows Dorothy on her quest to ask for the Wizard's help in sending her back to her home in Kansas.
As she embarks on her journey along the yellow brick road, Dorothy meets three companions - the Scarecrow, Tinman, and the Cowardly Lion - who are looking for a brain, a heart and courage.
Baum's novel has inspired countless other adaptations - on stage and screen - since it was written in 1900. The most recent was Oz The Great And Powerful, directed by Sam Raimi, which told the untold story of how a charming con-man, Oscar Diggs, became the wizard of Oz.
Entertainment Weekly reported that the new CBS show will be written by Ghost Whisperer scriptwriter Emily Fox with Carl Beverly and Sarah Timberman executive producers.