Smurfs 2: film sequel tops UK box office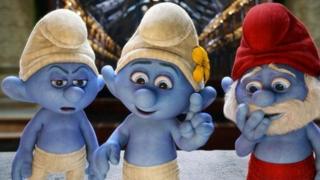 Animated film The Smurfs 2 has topped the UK and Ireland box office in its opening weekend.
The movie, which sees Neil Patrick Harris reprise his role opposite the blue fictional characters, took £3.2m including £1.45m from previews.
It beat competition from two other new entries - Sandra Bullock comedy The Heat and horror The Conjuring.
The Heat opened with £2.5m including £910,146 from previews, while The Conjuring made £2.2m.
Taking advantage of the summer holidays, the Smurf sequel was shown at 510 locations, averaging £6,316 per screen.
Last week's number one, The Wolverine - starring Hugh Jackman, fell to four with £1.8m in box office receipts - a drop of 62% in revenue.
Pixar animation Monsters University was at five with £1.75m, while Despicable Me 2 took the sixth spot with £1.3m, taking its total haul to £38.4m after six weeks on release.
Bruce Willis action sequel Red 2 entered the chart at seven with £1.02m and Ryan Gosling's latest offering, Only God Forgives, debuted at nine.
The crime thriller took £465,917 across 188 locations averaging £2,478 per screen.