Lovelace biopic given green light for release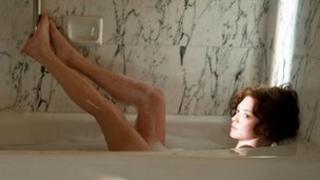 An attempt to block the release of a biopic of adult film actress Linda Lovelace by the company that owns the rights to her most famous movie has been rejected by a judge in New York.
US District Judge Thomas Griesa dismissed a $10 million (£6.45m) claim by Arrow Productions, enabling the film to open in the US on Friday as planned.
One of the film's producers expressed relief "that common sense prevailed".
Mamma Mia star Amanda Seyfried plays the porn actress in the new biopic.
Arrow filed its copyright action in Manhattan on Tuesday, claiming it had not been approached "for a licence to use any of [its] intellectual property".
It said that more than five minutes of footage was copyrighted material taken from Deep Throat that had been used "without license or permission".
Arrow's legal action revealed it had licensed Deep Throat to Inferno, another film about Lovelace which was to have starred Lindsay Lohan and which was eventually abandoned.
"Arrow Productions' complaint was transparent about its desire to control discussion about Deep Throat... and to hinder projects that would compete with theirs," said Millennium Films' Mark Gill in a statement.
"We believe this case was an insult to the legal safeguards in place maintaining our right to freedom of speech."
Another of the defendants - Radius TWC, a division of The Weinstein Company - said it "couldn't be more pleased".
"The world will finally get a chance to see Linda's real story unfold on screen in Lovelace," said its co-presidents, Tom Quinn and Jason Janego.
"Never again will she be silenced by the producers and distributors of Deep Throat."
Lovelace, which opens in the UK on 23 August, dramatises the life of the actress born Linda Boreman in 1949.
It depicts her abusive marriage to her manager Chuck Traynor, her troubled relationship with her mother Dorothy and her role in the making of Deep Throat.
The notorious "porno" - about a woman who derives pleasure from performing an intimate sexual act - became one of the most successful "skin flicks" of the 1970s as well as a pop culture phenomenon.
It subsequently gained additional notoriety after its title was assigned to Mark Felt, the pseudonymous informant who assisted the Washington Post's investigation into the Watergate scandal.
Linda Lovelace became an anti-pornography campaigner in later life before dying in a car accident in 2002 at the age of 53.