Munchkin actress Margaret Pellegrini dies aged 89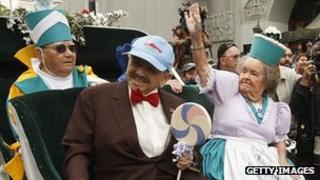 Margaret Pellegrini, one of the last surviving Munchkins from classic film The Wizard of Oz, has died aged 89.
Pellegrini, who played the flowerpot Munchkin and one of the sleepy head kids in the 1939 fantasy, died at her Phoenix, Arizona home on 7 August after suffering a stroke earlier in the week.
Born Margaret Williams in 1923, she appeared in the film at the age of 16.
Her death means there are now only two Munchkin actors still alive - Jerry Maren, 93, and Ruth Duccini, 95.
Pellegrini was one of seven original Munchkins to attend an unveiling of a star in their honour on the Hollywood Walk of Fame in 2007.
A wreath bearing her name has been placed on the star, located at 6915 Hollywood Boulevard, by the Hollywood Historic Trust.
In an interview she gave in 2010, Pellegrini attributed her involvement in The Wizard of Oz to being "in the right place at the right time".
"I have to pinch myself to see if it's true that I really am famous," she told the Northbrook Star.