Kick-Ass 2 director 'surprised' by Jim Carrey snub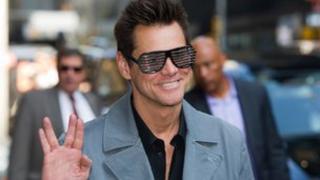 The director of Kick-Ass 2 has said he reacted with "surprise" to Jim Carrey's decision not to promote the film because he had grown uncomfortable with the level of violence it contained.
Carrey, who plays a vigilante in the film, said on Twitter that he could no longer support the project following the Sandy Hook school massacre.
Director Jeff Wadlow said he had not spoken to Carrey since the actor made the announcement in June.
The film opens in the UK on 14 August.
"The thing about Jim is we love him in these movies because you never know what he is going to do or say, and I'm here to tell you, in real life, you never know what he is going to do or say," said Wadlow.
"Probably surprise is a better way to describe my response to his tweets.
Personal decision
"But at the end of the day, I think he's fantastic in the film and I think people should see it and judge for themselves," he continued, adding that he would not rule out working with the actor again.
Twenty pupils and six staff were killed at Sandy Hook Elementary School in Connecticut last December by 20-year-old gunman Adam Lanza. He had earlier shot dead his mother in their home.
Carrey, who is well-known for his support of gun control measures, wrote on Twitter: "I did Kickass a month b4 Sandy Hook and now in all good conscience I cannot support that level of violence.
"My apologies to others involved with the film. I am not ashamed of it but recent events have caused a change in my heart," he added.
Kick-Ass 2 follows 2010's ultra-violent comic book movie and sees Chloe Moretz and Aaron Taylor-Johnson reprise their roles as high school pupils turned DIY superheroes Hit Girl and Kick-Ass.
Both actors said they respected his decision.
"You know, each to their own," said Moretz.
"It's his decision as an actor to do that. I can only speak for my character and I'm fine with everything that happened in the movie for me."
Taylor-Johnson added: "Jim's opinionated and had a change of heart. I respect what he's saying."