Meryl Streep and Robert De Niro reunite for film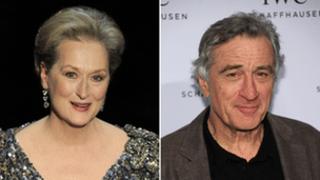 Meryl Streep and Robert De Niro are to reunite on screen, more than 12 years since they last appeared on film together.
The pair have been cast in The Good House, an adaptation of Ann Leary's darkly comic story of a small town in New England.
It will be the fourth film together for 69-year-old De Niro and Streep, 64.
They most memorably starred together in the five-time Oscar winning drama, The Deer Hunter (1978).
It was followed by Falling in Love in 1984. Their last film together was the 1996 American drama, Marvin's Room, for which Streep won a Golden Globe.
According to Deadline.com, Streep will play Hildy Good, an alcoholic estate agent, and descendant of one of the Salem witches, who reconnects with an old love interest, Frank Getchell (De Niro).
The script will be written by Pulitzer Prize-winning author of The Hours, Michael Cunningham.
De Niro's producing partner, Jane Rosenthal, will produce the film for their Tribeca Productions company, along with FilmNation's Aaron Ryder and Karen Lunder.