Actress Fiona Shaw steps in for Deborah Warner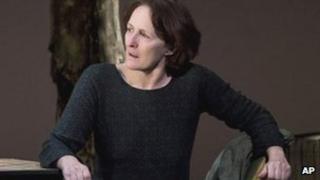 Harry Potter actress Fiona Shaw will open the 2013-2014 season at New York's Metropolitan Opera after stepping in for director Deborah Warner.
Warner was obliged to pull out of curtain-raiser Eugene Onegin this autumn due to health issues.
In a statement, the Met said the 54-year-old bowed out because of "an unexpected surgical procedure and the expected recovery time".
Her long-time collaborator Shaw will make her Met debut on 23 September.
"To lose [Warner] for the opening production is no small thing," Peter Gelb, the Met's general manager, told the Wall Street Journal.
"But the solution that she and Fiona have come up with is a remarkably creative idea. They know each other inside out."
Shaw is believed to be working with Warner in the UK this week before flying out to New York for the beginning of rehearsals on Monday.
Warner's staging of Tchaikovsky's Eugene Onegin, a co-production with the English National Opera, first debuted in London in 2011.
'The right thing'
"It's a big thing to take on someone's mental imaginative world," Shaw told the Wall Street Journal. "It's an unusual thing, definitely, but I think it's the right thing."
An acclaimed theatre actress and director, Shaw is perhaps best known for her turn as Aunt Petunia Dursley in the Harry Potter films and as Marnie Stonebrook in TV series True Blood.
She notably collaborated with Warner in a 1995 staging of Richard II, in which she played the title role. Earlier this year they worked together on a one-woman show, The Testament of Mary, on Broadway.
Shaw previously directed Vaughan Williams' Riders to the Sea and Mozart's The Marriage of Figaro for the English National Opera.
She is currently overseeing an upcoming touring production of Benjamin Britten's The Rape of Lucretia for Glyndebourne Opera.
Warner remains best known internationally for her Broadway staging of Euripides' Medea, which earned both her and Shaw Tony nominations in 2003.
Warner won Olivier awards for her productions of Hedda Gabler and Titus Andronicus in the 1990s.