Elmore Leonard in hospital following stroke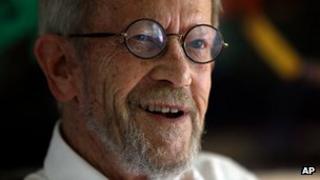 US crime writer Elmore Leonard, author of such books as Get Shorty, Maximum Bob and Out of Sight, is in hospital in Detroit following a stroke.
Gregg Sutter, the author's researcher, said the stroke happened last week, adding Leonard was "better every day".
"He's a fighter," said Mr Sutter of the 87-year-old, saying the author's family was "guardedly optimistic".
Leonard has written 45 books and received a lifetime achievement prize at last year's National Book Awards.
According to his researcher, he was "working very hard" on his 46th novel when the stroke happened.
"He's showing great spirit," he added.
Leonard was born in New Orleans but moved with his family to Detroit when he was nine.
His earliest stories were westerns and included 3:10 to Yuma, adapted into a film in 1957 and again in 2007.
Paul Newman starred in the film version of his book Hombre, while his short novel Fire in the Hole was adapted into the TV series Justified.
Leonard was so happy with the TV show that he wrote a new book based on the main character, US Marshal Raylan Givens, last year.
Leonard's crime novels have spawned several film adaptations, among them Get Shorty - which starred John Travolta and Danny DeVito - and Out of Sight, starring George Clooney and Jennifer Lopez.
Leonard's book Rum Punch became the basis for Quentin Tarantino's Jackie Brown, while its predecessor The Switch was recently filmed as Life of Crime.
Featuring characters previously seen in Jackie Brown, the film will have its premiere on the closing night of this year's Toronto Film Festival.