Sapphires DVD complaint over O'Dowd image prompts apology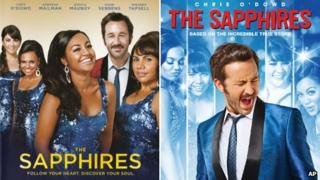 The US distributor of Australian film The Sapphires has apologised for a DVD cover appearing to focus on Bridesmaids actor Chris O'Dowd at the expense of his Aboriginal female co-stars.
Anchor Bay Entertainment it "regrets any unintentional upset" and that it was now considering new cover art.
The Sapphires tells of an all-female Australian Aboriginal singing group that entertained US troops in Vietnam.
It was a box office hit Down Under and won 11 AACTA awards earlier this year.
The Australian DVD cover places the actresses playing the Sapphires in the foreground, with O'Dowd standing behind them.
Their positions are inverted on the US cover, which places O'Dowd front and centre and relegates his co-stars to the background.
The design has prompted some commentators to accuse Anchor Bay of being both sexist and racist.
"The Sapphires is fantastic," wrote blogger MaryAnn Johanson on her Flick Filosopher site. "It really is. It is pure cinematic joy.
"But it is not, as DVD distributor Anchor Bay would have you believe, the story of a white man and his blue-monotone backup singers."
Johanson's blog prompted Melbourne resident Lucy Manne to launch an online petition calling on Anchor Bay to change the DVD's "sexist, racist cover".
Since its launch last week, the change.org protest has attracted almost 18,000 supporters.
The members of the singing group that inspired the film have also voiced their objections in a letter written on their behalf by the Aboriginal Medical Service.
The cover, its chairman wrote, "reinforces precisely the sort of bigotry that Naomi [Mayers], Beverly [Briggs], Lois [Peeler] and Laurel [Robinson] fought so hard against."
Replying to questions on Twitter, O'Dowd said the cover was "pretty vile" and "certainly not my choice".
"It's ridiculous, it's misleading, it's ill-judged, insensitive and everything the film wasn't," the IT Crowd actor told one of his followers last week.
O'Dowd, who plays the group's manager in the film, won best actor in January at the awards for the Australian Academy of Cinema and Television Arts.
The event also saw his co-star Deborah Mailman named best lead actress, while Jessica Mauboy received the best supporting actress prize.