Holby City 'scared off organ donors', doctors claim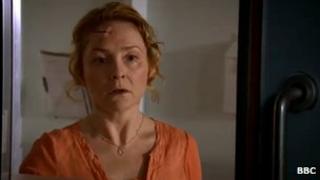 BBC drama Holby City has been accused of scaring off organ donors.
Last week's episode depicted a mother's struggle to decide whether her brain-dead daughter should donate her heart.
In one scene, she saw the operation in progress, despite withdrawing consent.
NHS Blood and Transplant said several potential donors had asked to be removed from the register as a result.
The BBC said the plot was meant to show what happened if rules were ignored.
In a letter of complaint, NHS Blood and Transplant said the episode was "misleading" and "wholly inaccurate".
It said producers had ignored the concerns of a senior transplant nurse who had been consulted on the script.
"Despite her sharing her professional concerns about the proposed storyline, these scenes were nevertheless retained, presumably for the purpose of creating a more controversial storyline in which the bodies of recently dead were portrayed as commodities and the wishes of grieving relatives treated with callous disregard.
"It was in our view both inexcusable and reckless that her in-depth knowledge of the organ donation system was ignored."
The letter continued: "We have already been contacted by people asking to be taken off the Organ Donor Register as a direct result of having seen this programme."
Prof James Neuberger, associate medical director at the authority, and his colleague Dr Paul Murphy said a "potential outcome" of the episode was that "fewer people will become donors and fewer people will get life saving transplants, all for the sake of 'a good story'".
Consequences
Last week's episode of Holby City was seen by 4.75 million people.
It followed the mother of a girl, who had been left brain-dead in a car accident, as she came to terms with her daughter's condition.
Visibly distressed, she sought out the transplant team and accidentally met the family of a potential organ recipient.
Transplant specialist Mo Effanga, played by Chizzy Akudolu, subsequently told the mother the meeting "shouldn't have" happened.
"Donor and recipient families are never allowed to meet until after the procedure," she explained. "And even then, I'm talking months. A year in most cases."
Effanga later relented, suggesting the mother could meet the recipient face-to-face, hoping that such an encounter would encourage her to press ahead with the heart transplant.
When her colleague Jonny Maconie (Michael Thompson) warned she could lose her job over the matter, the meeting was called off.
Later, the mother saw her daughter being wheeled into theatre and tried to put a stop to the transplant. Effanga effectively ignored her wishes and said it was too late to reverse the procedure.
After the operation, Maconie accused his colleague of "lying to a bereaved mother".
Effanga countered she could "justify a tiny lie if it means giving a young girl a second chance at life".
NHS Blood and Transplant said the storyline "flies in the face of the three cornerstones of organ donation in the UK - anonymity, trust and altruism - and instead presents donation as a callous utilitarian process in which donors are commodified".
It could not supply a figure for the number of people who had asked to be removed from the organ donation register as a result of the programme, but said staff had "reported several calls".
In response, the BBC said: "Holby City has the utmost respect for real life medical professionals and in no way was it our intention to suggest that our portrayal of a heart transplant was an accurate reflection of how such a scenario would typically be handled within the NHS.
"As with all storylines we worked closely with medical experts who advised on transplant protocols but the purpose of this storyline is to dramatise the consequences that could arise should the correct protocols be wilfully ignored.
"This is an ongoing story and in the weeks to come viewers will see the main character Mo face up to the fallout of her actions."