Avengers spin-off S.H.I.E.L.D. 'must stand alone', says Joss Whedon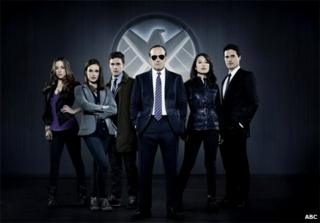 Marvel's forthcoming TV series Agents Of S.H.I.E.L.D. may be a spin-off from the blockbuster film Avengers Assemble, but it has to stand on its own merits, producer Joss Whedon has said.
The glossy pilot episode was screened for US critics on Sunday, who later questioned the series creator.
Asked if Avengers characters like Thor or Iron Man would make cameos, he said "we're still working that out".
"It's a fun opportunity [but] it's not the reason behind the show."
"This show has to work for people who are not going to see those movies or haven't seen them before."
Agents Of S.H.I.E.L.D. follows a team of US secret agents working for the Strategic Homeland Intervention, Enforcement and Logistics Division.
Led by Agent Phil Coulson, a recurring character in Marvel films and comics, they are tasked with investigating the emergence of super-humans on Earth.
Whedon said he had been intrigued by the story of regular humans in a world of superheroes.
"It's about the people who didn't get the hammer, and the idea that everybody matters.
The people who get shunted aside in the movies now get to take the spotlight. The show is very much about that sense of, 'What about the rest of us? How do we cope with a world that now has aliens and gods?'"
S.H.I.E.L.D. premieres on US network ABC on 24 September. Details of the plot have been kept under wraps and the pilot is still subject to an embargo.
However, Time Magazine's TV critic James Poniewozik tweeted some general impressions of the first episode.
He cited the positives as "Looks (TV) slick. Funny! Some interesting ideas re: how superheroes would change/upset a society".
But he said he was "not sold" on the supporting characters and it felt "more like a movie" than a series.
Whedon, who wrote and directed Avengers Assemble, previously created Buffy The Vampire Slayer and co-wrote the first Toy Story film.
He directed the pilot episode of S.H.I.E.L.D, but said he was unlikely to make any future episodes.
"I don't think it will happen again for the next couple years, because I'm getting behind another camera in another country," he said.
Whedon is in post-production on paranormal romance film In Your Eyes, after which he is due to film The Avengers sequel.
But he added: "I'm reading every script, every story, and giving notes and re-writes."
Whedon has handed over show-running duties to his brother Jed and sister-in-law Maurissa Tancharoen, with whom he worked on the short-lived cult TV show Dollhouse.
The show's biggest secret is how it explains the reappearance of Agent Coulson, who apparently met a grisly end in Avengers Assemble.
"It was really clear that I was dead," acknowledged actor Clark Gregg.
"Four or five months after The Avengers, I got a call from Joss and we talked about how much we wanted to have whatever reason Coulson had for being alive and walking around, not be anything that undermined the reality of The Avengers."
"When he explained to me a little bit more... I hung up the phone very deeply on board."