Derren Brown 'terrified' as man falls from balcony at show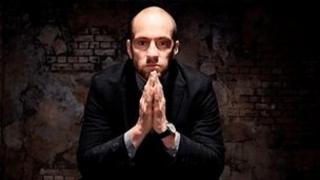 Illusionist Derren Brown has described his terror after a man fell from a balcony during one of his shows.
The man was reportedly in the upper tier of the Palace Theatre in London's West End on Saturday night, when his wife pushed him as a joke.
"He fell and caught the upper circle on the way down, and was hanging from it," Brown tweeted after the show.
"He's fine, but what a finale," he added. "Sending best thoughts to him and [his] wife, terrifying."
Audience members who described the incident on Twitter said the man caught a lighting rig as he fell, and was rescued by "a couple of guys" who "pulled him back from the second balcony".
Ellie, another Twitter user, said the man's wife had not intended for him to fall.
"The balcony is sloped so I'm assuming she didn't push him very hard and he just lost his balance," she wrote.
The Palace Theatre warns guests on its website not to sit in the highest tier if they are scared of heights or have limited mobility. The balcony is about 45 feet above the stage.
Brown's Infamous show runs until 17 August. On his website, the star warns that the performance is "not for the faint-hearted".