Edinburgh Fringe: Scientists experiment on stage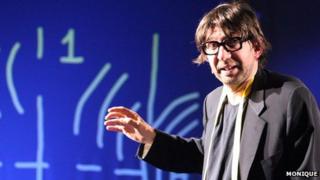 With shows celebrating Albert Einstein, the wonders of physics and the science of sex, this year's Edinburgh Fringe has an influx of scientists who have swapped the lecture theatre for the stage.
The Fringe is the world's largest performing arts festival, but this year the phrase "experimental theatre" has taken on an entirely new meaning.
In one Fringe show, titled Festival of the Spoken Nerd, three stand-up comedians and science buffs create a "fire tornado" on stage, electrocute a pickle and conduct other cool experiments.
Elsewhere, a physicist weaves drama into a quantum mechanics lecture, while Professor Peter Higgs - who discovered the Higgs boson - turned up to take part in one performance of a "stand-up physics" show named after him.
There are at least four shows combining science and comedy to explain relationships and sex, and a musical about Einstein, titled Relativitively Speaking, promises to prove that "Einstein = Musical Comedy Squared!"
"One link between science and theatre, is that we're both concerned with working out how things work and finding answers to problems," explains playwright Rob Drummond.
"We're both concerned with the quest for something that's unobtainable, and that's the truth."
Later this month, Drummond will chair a debate in Edinburgh titled Big Bang Theatre. It was organised by the Playwright's Studio Scotland after they noticed a trend at this year's festival for more shows based on scientific discovery.
Drummond believes the reason is linked to people looking to science rather than religion to explain the mysteries of the universe.
"With science answering many of those questions that we previously thought were unanswerable outside the realms of superstition and religious thinking, it's taken on a new importance in our lives," he says.
"I was brought up in a Church of Scotland household and, for the last decade, I've been slowly moving away from that and science is the thing that's taken hold of me more than anything. Now I'm a bit obsessed with science and quantum physics."
Andrea Brunello, a professional actor with a PhD in theoretical physics, has written and stars in The Principle of Uncertainty, which he describes as a real quantum mechanics lecture with a dramatic twist.
He says the addition of theatrical drama is crucial to ensure that science "talks to human beings and is not cold and detached".
"I believe that people are realising how important it is to have an understanding of our reality," he says.
Brunello's play is the first product of a collaboration with the physics department of the University of Trento in Italy to create theatrical science, or perhaps scientific theatre.
Brunello refers to the shows at the Fringe about "giants" of science like Einstein, Higgs and Sir Isaac Newton.
"I think people are starting to understand that these giants can make the world better," he says. "If we had more Newtons, say, in the world, I think the world would be much better.
"People want to be part of that and they are curious about it. These are becoming like pop culture icons."
The show about Prof Higgs, simply titled Higgs, is described by its Dutch creator Jan van den Berg as "stand-up physics".
"In the Netherlands we've got a new sort of theatre which is called stand-up philosophy, stand-up economics etc," he says. "At the moment that's what's going on, on the fringe scene."
A theatre and film-maker who enthuses about his love for particle physics, van den Berg says scientists and artists are linked because they are the only people really pondering long-term problems.
They look "further ahead than four years in politics or 24 hours on the stock exchange, and try to think about the bigger questions", he says.
Prof Higgs himself watched Saturday's performance of Higgs in the historic anatomy lecture theatre in Edinburgh's Summerhall before taking part in a post-show interview with van den Berg.
Asked about the abundance of theatrical shows based on science, Prof Higgs said: "I think it's very productive because you can put over things in a different language that's more readily accessible to people than I can."
Many comedians have tackled science on stage, radio or TV in recent years, from Robin Ince, who teamed up with Prof Brian Cox for the show Infinite Monkey Cage, to Chris Addison - who did a show about the periodic table.
Helen Arney started performing as a stand-up after graduating in theoretical physics from Imperial College, London, and is now in two science-based comedy shows at the Fringe.
"My favourite comedians and comedy writers think the same way as some scientists," she says.
"You don't just look at the world and see what is there on the surface. You have to find out how it works underneath.
"The most satisfying comedians are ones who don't just deal in stereotypes and surface stuff. They dig underneath to find out fundamental things about human nature and characters. And some of the best scientists see the world in the same way."
At the Fringe, she is in Domestic Science, a double act with her real-life partner Rob Wells; and she is also one of the three nerds enthusing about science and spreadsheets in the irreverent Festival of the Spoken Nerd.
They seem a bit too articulate and charismatic to be real nerds, however. "We're trying to redefine nerd as not being someone who sits in their room and never talks to anyone," Arney says.
"Being a nerd is being unable to stop yourself communicating this cool stuff. We cannot conceive that people would not be interested in this stuff."